You are here:
Motion-adaptive Video Deinterlacer
Studio-quality video deinterlacer. Converts all interlaced digital video formats to high-res progressive versions. Choice of three deinterlacing modes including weave, interpolate and full motion-adaptive.

Features a simple generic memory interface for buffering odd and even fields.

Features
24-bit RGB digital video throughout

Supports all interlaced digital video formats

Supports any interlaced video resolution

Weave, Interpolate and Motion-adaptive modes

Crisp and clear progressive video

Any frame rate in - any frame rate out

Simple generic memory interface
Benefits
Technology independent IP Core

Suitable for FPGA and ASIC

Supplied as human-readable source code

One-time license fee with unlimited use

Field tested and market proven

Any custom modification on request
Deliverables
VHDL source-code (or Verilog on request)

Simulation testbench

Examples and scripts

Full pdf datasheet

One-to-one technical support
Block Diagram of the Motion-adaptive Video Deinterlacer IP Core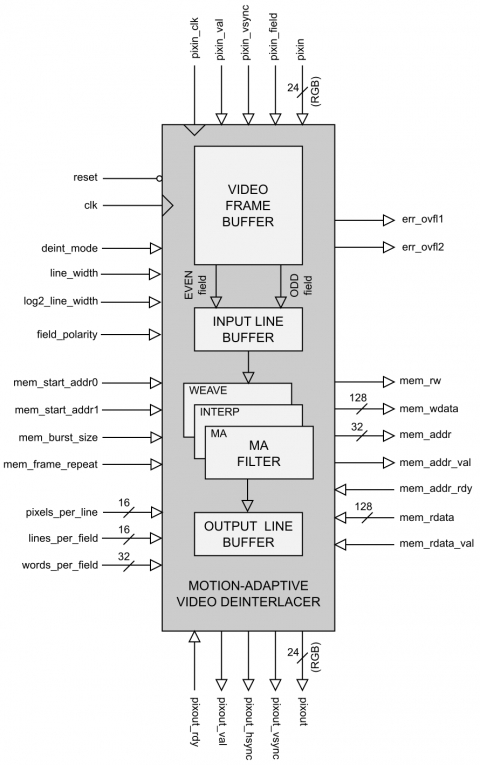 ---
View Motion-adaptive Video Deinterlacer full description to...
see the entire Motion-adaptive Video Deinterlacer datasheet
get in contact with Motion-adaptive Video Deinterlacer Supplier