You are here:
MPEG-2 Transport Stream Demultiplexer
Transport Stream demultiplexer IP core (TSDEMUX) is a fully synthesizable IP block for MPEG-2 transport stream compatible digital TV equipment SoCs. It can handle multiple Transport Streams from different tuners (over-the-air broadcasting) or system memory (IPTV, PVR). TSDEMUX can be configured to support up to 4 different descrambling algorithms for multiple Conditional Access Systems support. TSDEMUX IP greatly reduces host CPU usage in transport stream processing applications.
Features
ISO/IEC 13818-1 MPEG-2 complete support

Simultaneous processing of 5 MPEG-2 transport streams: 3 external streams from tuners (serial/parallel), 2 streams from system memory

Fast hardware PID filtering: 128 hardware PID filters, 32 independent DMA queues for writing filtered data to system memory

Full and partial transport stream recording

Pass-through mode

Configurable parallel transport stream output interface

AMBA 3 AXI Master and APB Slave system integration interfaces

Descrambling on TS and PES levels: CSA2.1, CSA3.0, AES, DES/3DES

80 000 to 380 000 2-input NAND equivalent gates (depends on descramblers configuration), 24Kbit internal RAM
Benefits
Easy to integrate with standard AMBA interfaces

Fast hardware PID filtering with 128 filters

Up to 5 independent transport streams simultaneous processing

High performance stream descramblers with multiple key sets and multiple algorithms support
Deliverables
RTL Source code

Verification environment

SDC for synthesis and STA

Documentation

User Guide

Integration manual
Applications
DVB set-top-boxes with conditional access support and multiple tuners

Personal video recorders

Conditional Access Modules

Broadcast equipment
Block Diagram of the MPEG-2 Transport Stream Demultiplexer IP Core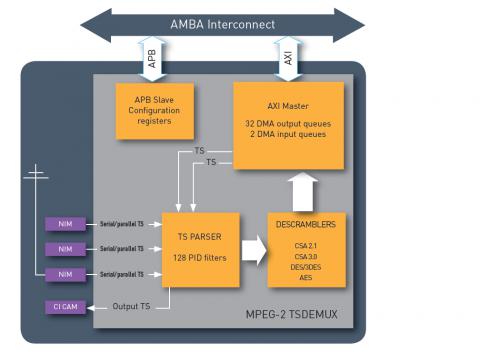 ---
View MPEG-2 Transport Stream Demultiplexer full description to...
see the entire MPEG-2 Transport Stream Demultiplexer datasheet
get in contact with MPEG-2 Transport Stream Demultiplexer Supplier