You are here:
Multi Protocol IO Concentrator (RDC) IP Core for Safe and Secure Ethernet Network
Our IP Core is the ideal solution to link all your equipment, sensor or actuator whatever the used protocol to an Avionic network in a safe & secure manner.

It brings a high performance, low latency, safe and cyber-secure link between your equipment and the Avionic network based on ARINC664p7/Ethernet network.

On the Avionic network side, CetraC technology is fully compliant with ARINC664 Part 7 and Ethernet standards. It allows both cyclic and event-driven communications in full duplex. A 100% hardware solution with embedded redundancy management feature to increase network reliability.

On the peripheral IO side, CetraC technology supports a large range of avionic protocol to get the most flexible and scalable solution. You are able to connect all your legacy equipment and new one together within one box. List of supported protocols and features are in constant evolution and include now the following: ARINC429, ARINC825, ARINC664, FibreChannel, MIL-STD-1553, Ethernet, IEEE1588 (PTP), TSN, AMBA AXI, PCI, PCI Express, discrete and analog.

Optionally, with PCI, PCI Express or AXI backend interface CetraC is able to interconnect to a large portfolio of processors within a very short Time To Market. With CetraC technology, your data can be translated and aggregated on the fly and by the hardware, which allows more power for your application running on the CPU.
By using our CetraC technology you get a safe and cyber secure link from your end user software application up to the network with the smaller footprint in the market.


Features
Ethernet/ARINC664P7 Switch with customizable number of ports up to 1 Gbps.

Support IEEE 1588 PTPV2 as GrandMaster or User

Safe & Secure Ethernet communication

Multi-protocol : CAN, ARINC429, MIL-STD-1553, TSN

Modularity and Scalability capabilities by implementing easily up to 24 ports

Master Clock Synchronization

Compliant with ARINC664 Part 7 (AFDX)

Compliant with ARINC664 Part 7 at 1Gbps (Safe Ethernet)

Compliant with IEEE802.3; UDP, TCP, ICMP, ARP

Compliant with IEEE-1588

Compliant with SNMP

Compliant with ARINC615-A

DO-254 Certification Kit up to DAL-A
Benefits
It supports in one core multi Ethernet based protocols as ARINC664p7, IEEE802.3, IEEE1588, ARINC429, CAN, MIL-STD-1553, PTP, FibreChannel for the smallest footprint available

100% Hardware implementation to target both ASIC and FPGA device : No CPU needed

Manage Deterministic and best effort frames without compromise

Cyber Security friendly

Highly modular and scalable to match easily new protocol standard
Deliverables
"Encrypted RTL source code compliant with CetraC design standard

Reference Design as integration example

Configuration Software tools and Library for Linux-RT Operating System : Linux, Windows, VxWorks.

Support includes technical integration, DO-254 integration"

Also available as COTS hardware in our concentrator hardware named Kazymir for prototyping and evaluation purposes
Applications
used as central element of your safe and cyber-secure network
Block Diagram of the Multi Protocol IO Concentrator (RDC) IP Core for Safe and Secure Ethernet Network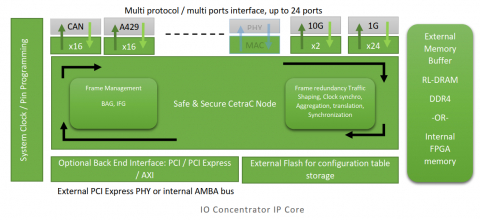 Video Demo of the Multi Protocol IO Concentrator (RDC) IP Core for Safe and Secure Ethernet Network
CetraC Video Channel
---
View Multi Protocol IO Concentrator (RDC) IP Core for Safe and Secure Ethernet Network full description to...
see the entire Multi Protocol IO Concentrator (RDC) IP Core for Safe and Secure Ethernet Network datasheet
get in contact with Multi Protocol IO Concentrator (RDC) IP Core for Safe and Secure Ethernet Network Supplier