You are here:
Network Redundancy (HSR & PRP) core
The HSR&PRP Core from NetTimeLogic is a standalone Network Redundancy Core according to IEC62439-3 rev3. It allows to connect to a redundant network supporting either the Parallel Redundancy Protocol (PRP) or the High-availability Seamless Redundancy Protocol (HSR). It can either run as a Dual Attached Node (DAN) being an endpoint or it can run as a Redundancy Box (RedBox) bridging between a redundant and a non-redundant network.
The core has three ports: A redundant pair named Ports A&B and an uplink named Port C. The basic principal is duplicating and tagging frames on the path from Port C to Ports A&B and duplicate rejection and untagging on the path from Ports A&B to Port C. It can support a configurable number of nodes on the redundant side and also on the non-redundant network (when run as RedBox). It makes a basic supervision of the redundant network and sends supervision frames for its non-redundant connected nodes. The Core learns the connected nodes (MACs) itself and needs no further configuration.

The HSR&PRP Core is intercepting the path between two Ethernet PHYs and an Ethernet core that forwards or handles Ethernet frames (MAC or Switch).

All tables, protocols and algorithms are implemented completely in HW.
Features
Supports the HSR and PRP redundancy protocol according to IEC62439-3 rev 3

Can run as Dual Attached Node (DAN) or as Redundancy Box (RedBox)

Supports HSR Mode H and Mode X and PRP Duplicate Discard Mode

PTP aware for use with PTP Utility Profile

Intercepts path between MAC and two PHYs

Configurable number of maximum nodes supported on Ports A&B and Port C

Full line speed

AXI4 Light register set or static configuration

MII/GMII/RGMII Interface support (optional AXI4 stream for interconnection to 3rd party cores)

Hardware supervision handling
Benefits
Coprocessor handling network redundancy according to HSR, PRP (IEC62439) or FRER (EEE802.1CB) completely standalone in the core.

No Software Stack required
Deliverables
Source Code (not encrypted, not obfuscated)

Reference Designs

Testbench with Stimulifiles

Configuration Tool

Documentation
Applications
Distributed data acquisition

Ethernet based automation networks

Automation

Robotic

Automotive

Test and measurement
Block Diagram of the Network Redundancy (HSR & PRP) core IP Core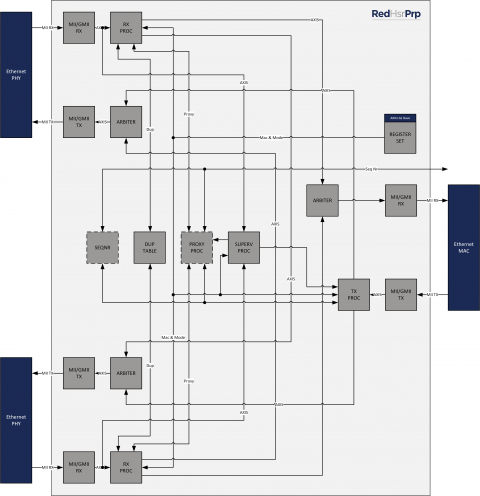 ---
View Network Redundancy (HSR & PRP) core full description to...
see the entire Network Redundancy (HSR & PRP) core datasheet
get in contact with Network Redundancy (HSR & PRP) core Supplier