You are here:
OFDM Modem
OFDM baseband processor for UWB applications. UWB WPAN's provide very high data rate, short range, and low power communications.

Typical requirements include an ability to achieve a 200 Mbps information rate at a range of 4 meters and a 110 Mbps information rate at 10 meters.



Features
Supports ECMA-368 PHY requirements for mandatory rates (53.3, 106.7 and 200 Mbps)

Advanced acquisition and channel estimation algorithms to support SNR of < -3 dB

Streaming mode support

Low power implementation techniques with advanced clock management logic

Flexible external interfaces to support a broad range of integration requirements

Verified against the modified Saleh-Valenzuela multipath model- RMS delay spread up to 25 ns

Fixed-point performance model implemented in C for maximum design flow flexibility

RTL verified against fixed-point performance model
Applications
UWB Wireless Personal Area Networks (WPAN)

Short range, low power, very high speed transfer of high-quality multimedia content

Computers and peripherals

Mobile consumer electronics and communications

Certified Wireless USB

Wireless 1394

High data rate Bluetooth® wireless technology

Wireless HDMI

Typical consumer scenario

Video camcorder, digital camera, and hand held appliance downloads to TV, photo kiosks, and PC

Audio/Video distribution for home gaming and entertainment clusters

Wireless connectivity between mobile devices and video projection equipment

Wireless docking stations
Block Diagram of the OFDM Modem IP Core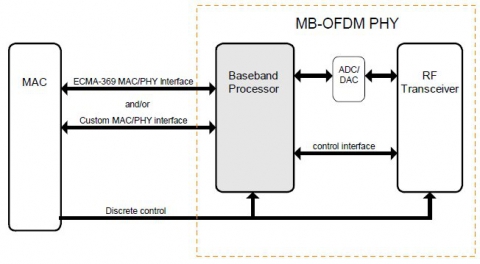 ---
View OFDM Modem full description to...
see the entire OFDM Modem datasheet
get in contact with OFDM Modem Supplier