You are here:
Parallel Reed-Solomon ECC/FEC RX Custom IP Core
Hardent's ECC/FEC (Error-Correcting Code/Forward Error Correction) proprietary tool suite implements Reed-Solomon algorithms with a high-performance parallel architecture.

Hardent uses the tool suite, combined with its expertise in ASIC/FPGA and system design, to customize the design of the hardware ECC/FEC decoder IP core to each customer's unique requirements and target application.

The tool suite implements the ECC/FEC encoder function using user-defined parameters, including the level of parallelization (symbol per clock) of the circuit, in order to allow for optimization of data throughput and/or gate count.
Features
RS(n,k)

User-configurable FEC parameters

Bits per symbol (m)

Codeword length (n), message length (k)

Number of parity symbols (2t)

Primitive polynomial and generator polynomial

Configurable parallelization level (symbols per clock cycle)

Error and erasure decoding

Performance and statistic counters

Fully synchronous design
Benefits
Hardent's IP portfolio offers customers ready-made solutions to accelerate product development and meet demanding time-to-market schedules.

Developed by our team of experienced FPGA and ASIC designers, our IP products have undergone extensive verification and offer proven interoperability and compatibility
Deliverables
Encrypted RTL source code IP core

Functional and structural coverage reports

Comprehensive integration guide

Technical support and maintenance updates
Applications
Optical links

Ethernet

High-speed electrical links

Fault-tolerant SSD storage

Deep space transmission and telemetry
Block Diagram of the Parallel Reed-Solomon ECC/FEC RX Custom IP Core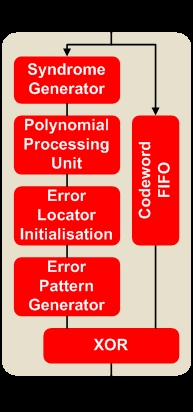 ---
View Parallel Reed-Solomon ECC/FEC RX Custom IP Core full description to...
see the entire Parallel Reed-Solomon ECC/FEC RX Custom IP Core datasheet
get in contact with Parallel Reed-Solomon ECC/FEC RX Custom IP Core Supplier