You are here:
Passive/active NFC transceiver
This 13.56 MHz NFC IP in generic low-cost 0.18 μm CMOS
targets compatibility with ISO/IEC 14443 Type A at 106 to
424 kbit/s (compatible with NFC-equipped smartphone).
It covers a legacy passive mode, (battery-less) and an
active mode, (battery-assisted), for longer range or
poor antenna. In passive mode, the 1.5-2.0 V supply is
harvested from the magnetic field to supply < 150 μA
@106 kbit/s transceiver (plus MCU supporting protocol)
< 10 mA for other functionalities.
In active mode, the current consumption is 650 μA in
reception and 10.5 mA typ. for 260 Ω antenna impedance
in transmission. Antenna impedance is adjusted for each
functionality with external serial capacitors for optimum
matching to the coil. The IP can be shrinked by removal
of either mode.
Features
TSMC 180 nm 6 metals generic process without analog options (MiM, High-Voltage, etc.)

Differential antenna interfaces with dedicated external capacitors for antenna impedance matching

27.56 MHz Xtal for active mode only

Analog front-end area 0.35 mm2

-40 °C to +85 °C temperature range
Applications
NFC sensor tag

Bluetooth pairing

Firmware updates
Block Diagram of the Passive/active NFC transceiver IP Core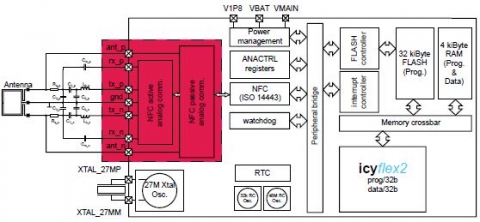 ---
View Passive/active NFC transceiver full description to...
see the entire Passive/active NFC transceiver datasheet
get in contact with Passive/active NFC transceiver Supplier