You are here:
PCI Express Gen 1/Gen 2 Phy
The TRC5024CPA is a four lane Gen 1 and 2 PCI Express Physical layer (Phy) Phy IP core, delivering high-speed serial data transmission over controlled impedance transmission media such as copper cable, PCB traces or fiber optics. The device offers support for 2.5/5.0 Gbps PCI Express which include spread spectrum clocking, beacon out of band signaling and de-emphasis support. TRC5024CPA operates on 1.2/1.8 V supplies. The IP is capable of transmitting and receiving serial data at 2.5 Gbps and 5.0 Gbps per lane with excellent bit error rate performance.

Each transmit section of the TRC5024CPA contains a low-jitter clock synthesizer, a parallel to serial converter with built in PCS transmit functions, and a CMOS output driver with selectable de-emphasis for use in backplane applications.

Each receive section contains an input limiting amplifier with on-chip terminations and selectable equalization levels, clock/data recovery PLL, and PCS receive functions. Built-in serial and parallel loopback modes. PRBS generator/checker and error detectors aid in support of testing.

The TRC5024CPA requires no external components for its clock synthesizers and clock recovery PLL. Three external resistors are needed to set the proper bias currents for its onchip terminations.

TRC5024CPA has low jitter generation and high jitter tolerance making it ideal for integration in SoCs and ASICs in the presence of multiple clocks and noise. TSMC is available in TSMC 65 nm G process and can be ported to other processes.
Features
2.5/5.0 Gbps per lane interface optimized for PCI Express applications

Conforms to PCI Express Specification 1.0a, 1.1 and 2.0

PIPE compliant parallel interface

Beacon out of band signaling

Rate negotiation

Receiver detection sequence

High-speed differential reference clock

Jitter Tolerance and Jitter generation exceeds the PCI Express Phy spec.

Programmable output swing and de-emphasis

Programmable serial input equalization

interface

Termination auto calibration on power up

High speed serial CMOS output drivers with internal terminations

High speed serial CMOS input stage with internal terminations

Synchronization for character alignment

Local and remote loopbacks

Pseudo-Random (PRBS) pattern generator and error checker to support BIST

Transmitter electrical idle, and receiver electrical idle detection

1.2/1.8V ±5% supplies

75 mW max power/lane

power management modes

TSMC advanced 65 nm G CMOS process

Available in 1X, 4X, 8X, and 16X configuration
Applications
PCI Express Host

PCI Express End Point

Serial ATA Bridge

Infiniband Bridge

PCI Express Switch

PCI Express Add-in Card

PCI-PCI Express Bridge

ON chipset
Block Diagram of the PCI Express Gen 1/Gen 2 Phy IP Core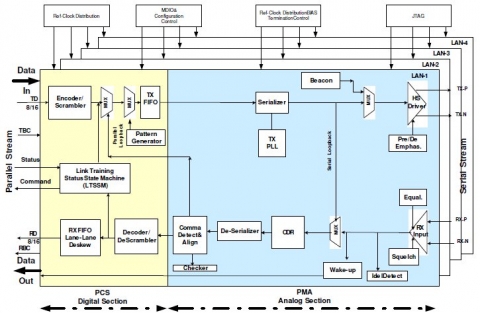 ---
View PCI Express Gen 1/Gen 2 Phy full description to...
see the entire PCI Express Gen 1/Gen 2 Phy datasheet
get in contact with PCI Express Gen 1/Gen 2 Phy Supplier