You are here:
PCI Express PHY serial link PIPE Transceiver IP cell/hard macro
SMS5000 is a fully integrated CMOS transceiver that handles the full Physical Layer PCI Express protocol and signaling. It contains all necessary AFE (Analog Front End), Clock synthesis, Clock Recovery, Serializer, De-serializer, Comma detect for 8B/10B encoded data and frame alignment functionalities. Digital controller interface is realized with a 8-bit parallel operation (Optional 16-bit Interface) that allows use of 250 MHz reference Clock. The transceiver includes Receiver Detection, Beacon Generation, Beacon Detection and Signal Detect capability compliant with PCI Express Specification requirements and provides Short Circuit Protection to ground for outputs. SMS5000 also includes calibrated Transmitter and Receiver Termination Resistors compliant with the requirements of the PCI Express Base 1.0a Specification.

SMS5000 does not require any external Loop filter capacitor(s) for clock Synthesis PLL or Clock recovery circuitry making it immune to PCB related noise typically encountered, and provides a completely integrated solution.
Features
Supports 2.5Gb/s serial data rate

Utilizes 8-bit or 16-bit parallel interface to transmit and receive PCI Express data

Full Support for Auxiliary Power (Vaux) for Energy aware systems like Multi-Port Host Controllers

Data and clock recovery from serial stream on the PCI Express bus

Supports direct disparity control for use in transmitting compliance pattern

8b/10b encode/decode and error indication

Receiver detection

De-emphasis at Transmit

Electrical Idle Generation & Detection

Lane Polarity Inversion Support

Loop-back Support

Spread Spectrum Clock Support

Embedded Bit Error Rate Testing Through PBRS generation and detection

Short Circuit Protection

Scrambling Disable Feature

Beacon transmission and detection

Direct Disparity Control Support for use in transmitting compliance pattern

Full low cost, low power CMOS Implementation

Modular architecture supports 1,2,4,8,16 Lane applications

Optimized, Proprietary architecture yields very small silicon area

Hot Swap, Hot Plug Support
Deliverables
GDS2

Full behavioral model

test vectors

test bench for integration testing

verification environment

characterization and testing documents
Block Diagram of the PCI Express PHY serial link PIPE Transceiver IP cell/hard macro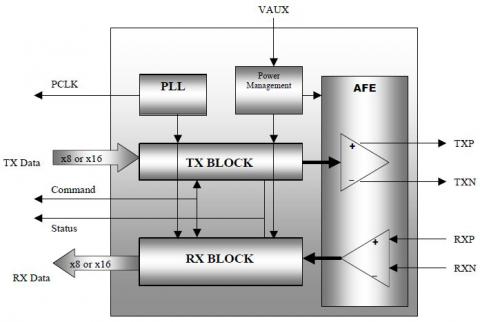 ---
View PCI Express PHY serial link PIPE Transceiver IP cell/hard macro full description to...
see the entire PCI Express PHY serial link PIPE Transceiver IP cell/hard macro datasheet
get in contact with PCI Express PHY serial link PIPE Transceiver IP cell/hard macro Supplier