You are here:
PCIe 5.0 Controller
XpressRICH5 is a configurable and scalable PCIe controller Soft IP designed for ASIC and FPGA implementation. The XpressRICH5 IP is compliant with the PCI Express 5.0 rev.0.7, 4.0, 3.1, 2.1, and 1.1 specifications, as well as with the PHY Interface for PCI Express (PIPE) specification. The IP can be configured to support endpoint, root port, switch port, and dual-mode topologies, allowing for a variety of use models. The provided Graphical User Interface (GUI) Wizard allows designers to tailor the IP to their exact requirements, by enabling, disabling, and adjusting a vast array of parameters, including data path size, PIPE interface width, low power support, SR-IOV, ECC, AER, etc. for optimal throughput, latency, size and power. PLDA is working hand in hand with multiple PHY IP vendors and Verification IP vendors to offer a range of integrated solutions for PCIe 5.0. PLDA XpressRICH5 PCIe IP is the #1 choice for designers requiring enterprise-class features, highest performance, reliability, and scalability.

---
View PCIe 5.0 Controller full description to...
see the entire PCIe 5.0 Controller datasheet
get in contact with PCIe 5.0 Controller Supplier
Block Diagram of the PCIe 5.0 Controller IP Core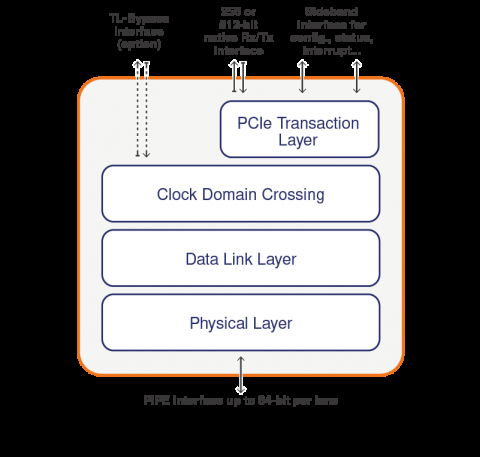 Video Demo of the PCIe 5.0 Controller IP Core
In this video, we talk about the PLDA XpressRICH IP wizard which has been designed to enable PCIe designers to easily configure their PCIe controller as required for their application.