You are here:
PCIe 5.0 PHY IP
This Peripheral Component Interconnect Express (PCIe) x4 PHY is compliant with PCIe 5.0 Base Specification with support of PIPE 5.1 interface spec. Lower power consumption is achieved due to support of additional PLL control, reference clock control, and embedded power gating control. Also, since a fore mentioned low power mode setting is configurable, the PHY is widely applicable for various scenarios under different

Verification
PCIe PHY functionality is verified in NCVerilog simulation software using test bench written in Verilog HDL

Available in TSMC 28 HPC / HPC+ & TSMC 12 FFC
Features
Compliant with PCIe 5.0 Base Specification

Compliant with PIPE 5.1

Supported data transfer rate: 2.5 GT/s, 5.0 GT/s, 8.0 GT/s, 16.0 GT/s and 32GT/s

Supported physical lane width: x4

Supported parallel interface: 16/32- bit(Gen4/5), 10/20-bit(Gen1/2/3)

Support dual-port PLL with LC tanks

Support CC/SRIS/SRNS

Support SSC for EMI reduction

DFE+CTLE for RX-EQ training

3-tap FFE for TX preset

Power-gated for lowest leakage in L1.2 low power mode(PMA)

Auto power saving for short reach

TSMC 12nm FFC 1P10M (ULVT/SVT) process

Operating Voltage: 0.8V and 1.2V

Built-in EYE-monitor and EYE checker
Deliverables
Application Note / User Manual

Behavior model, and protected RTL codes

Protected post layout netlist and Standard Delay Format (SDF)

Synopsys library (LIB)

Frame view (LEF)

Metal GDS (GDSII)

Test patterns and Test Documentation
Block Diagram of the PCIe 5.0 PHY IP IP Core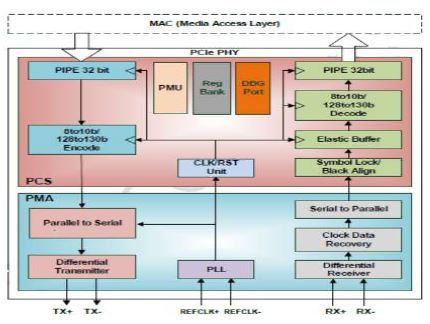 ---
View PCIe 5.0 PHY IP full description to...
see the entire PCIe 5.0 PHY IP datasheet
get in contact with PCIe 5.0 PHY IP Supplier