You are here:
PCIe to ISA bride
PCIe to ISA bride is a IP core which converts PCIe to ISA master bus interface.
.
Features
The following are the main features of the PCIe to ISA Bus Controller:

System Interface

100MHz external reference clock for synchronous clocking of PCI express Interface

Supports interface to external active low reset signal

PCI Express Interface

Compliant with the PCI Express base specification v1.1

Lane width supported x1

Link speed supported 2.5 Gbps

User interface width supported 32-bit

PCI Express Application Interface

Target only support

I/O BAR0 supported for ISA I/O bus access

Memory BAR1 supported for ISA memory bus access.

ISA Master Interface

The ISA Bridge implements a 16-bit data interface

Supports Bus clock of 8 MHz for ISA interface

Supports a 20-bit system address lines tristate, which can be latched on to the falling edge of bus address latch enable signal

Supports latchable address lines, these unlatched address signals give the system up to 16 MB of address ability
Benefits
Compatible with different FPGA Vendors PCIe Hard IP

Configurable and ease of use in industrial and embedded applications
Applications
Used industrial and embedded application

Used in computer mother board
Block Diagram of the PCIe to ISA bride IP Core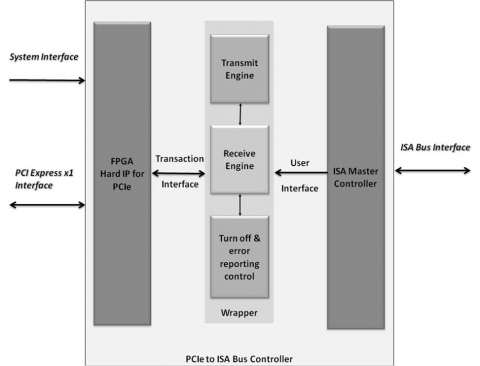 ---
View PCIe to ISA bride full description to...
see the entire PCIe to ISA bride datasheet
get in contact with PCIe to ISA bride Supplier