You are here:
PCIe to UART Bridge
PCIe to UART bridge is a IP core which converts PCIe to UART bus interface
.
Features
The following are the main features of the PCIe to UART Controller:

System Interface.

100MHz external reference clock for synchronous clocking of PCI express Interface.

Supports interface to external active low reset signal.

PCI Express Interface.

Compliant with the PCI Express base specification v1.1.

Lane width supported x1.

Link speed supported 2.5 Gbps.

User interface width supported 32-bit.

PCI Express Application Interface.

Target only support.

Memory BAR0 supported for UART controller.

UART Interface.

The UART bridge uses IO mapped interface.

Full duplex asynchronous communication.

Baud rate of 115200 with a single odd parity, stop & start bit.

Supports transmit & receive synchronous FIFO of size 16 byte depth.
Benefits
Compatible with different FPGA Vendors PCIe Hard IP.

Configurable and ease of use in POS.
Applications
Block Diagram of the PCIe to UART Bridge IP Core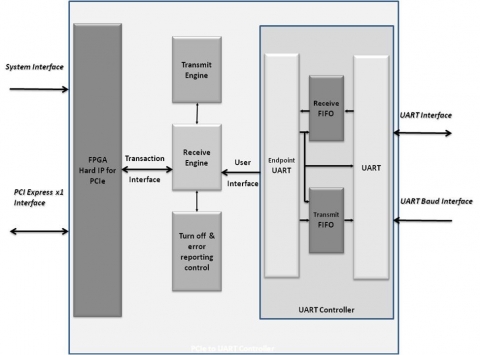 ---
View PCIe to UART Bridge full description to...
see the entire PCIe to UART Bridge datasheet
get in contact with PCIe to UART Bridge Supplier