You are here:
pico 2D Graphics Processor for Wearables/IoT
NEMA®|p is the smallest member of the NEMA®|GPU Series, and has been specifically designed to serve the need to build economically smart SoC's to drive small yet vibrant display applications.

Developing those area constrained applications can be challenging and a cost efficient graphic solution is a key element to succeed but without sacrificing graphics performance and dispense the ability of ultra-low power consumption. NEMA®|p has an incredibly small silicon footprint of just 0.074mm2 (475MHz @ 28nm), with leakage power GPU consumption of just 0.06mW. Implementing Think Silicon's proprietary framebuffer compression technology (TSCTMFB) limits memory power consumption to just 0.03mW (in DDR-less systems).

It features a programmable 2D graphics-rendering engine and has innovative composition functionalities while supporting Linux, RTOS, and Graphics APIs like uGFX and DirectFB. Bare metal library enables graphics applications development in embedded systems with no Operating System.
---
View pico 2D Graphics Processor for Wearables/IoT full description to...
see the entire pico 2D Graphics Processor for Wearables/IoT datasheet
get in contact with pico 2D Graphics Processor for Wearables/IoT Supplier
Block Diagram of the pico 2D Graphics Processor for Wearables/IoT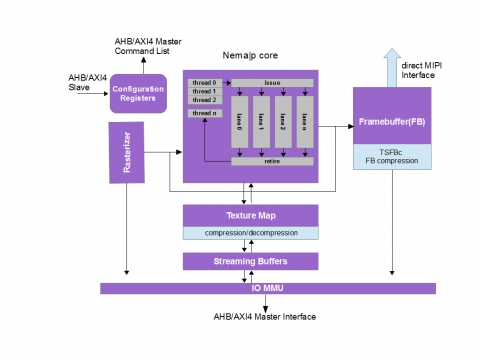 Video Demo of the pico 2D Graphics Processor for Wearables/IoT