You are here:
QDR IV XP PHY + Memory Controller
Atria Logic with its vast expertise and working experience for more than a decade in memory domains, brings a high speed PHY and Memory Controller for next generation memories introduced under the QDR consortium. Working at high speeds it garnishes the maximum speed of Stratix V FPGAs at 800MHz. De- skew training sequences, per-bit calibration and rate conversions at high speeds from uer interface (quarter rate) to memory interface (full rate) are some its features.
Features
Standard: QDR IV XP (Extreme Performance) PHY and Memory Controller

Frequency: Memory Interface : 800MHz

User Interface : 200MHz

Write Latency at Memory Interface : 5 Full Rate Cycles

Read Latency at Memory Interface : 8 Full Rate Cycles

Burst Length : 2 Words

Calibration : Per-bit calibration for data, command and address on memory interface.

Data Modes: x18 mode supported at 2 ports respectively. At one FR cycle 2 x (18+18) = 72b of data transferred.

FPGA Platform: Stratix V FPGA
Deliverables
FPGA specific netlist

Complete HDLtestbench

Test images

Data Sheet and Users Guide
Applications
High performance networking and communication applications

Servers
Block Diagram of the QDR IV XP PHY + Memory Controller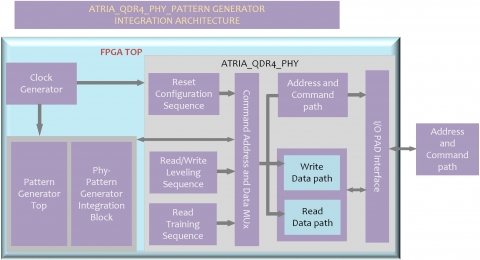 ---
View QDR IV XP PHY + Memory Controller full description to...
see the entire QDR IV XP PHY + Memory Controller datasheet
get in contact with QDR IV XP PHY + Memory Controller Supplier