You are here:
Quad GbE Over SONET/SDH
Lattice's Quad GbE Over SONET/SDH Bridge is a hard IP Core implemented in two Lattice ORCA4E06 devices that act as a bridge between two Intel Dual-Port GbE MAC devices (part number IXF1002) and an Agere System's SONET Framer device (part number TADM042G5v2). External 64Mb DRAM is also used as part of the system for buffering data and flow control purposes. The 9-page Data Sheet provides a brief description of the IP Core, its signals, and the system solution. Please consult the Lattice factory for further information.
Features
Encapsulates GbE frames into SONET/SDH protocol using packet-over SONET (POS) and simplified data link (SDL)

Quad OC-12c POS interface to the SONET/SDH network, each OC-12c carries one GbE data channel

Performs all SONET/SDH section, line, and path termination functions

Support for Jumbo Ethernet packets, up to 9.6 Kbytes

Full packet error handling with parity error detection & error indication from Link Layer and MAC devices

Robust 64-bit FIFO MAC interfaces with arbitrationd

Flexible flow control at ingress & egress. Software-provisioned flow control provided through MPU interface

SDRAM Controller with programmable watermark registers for buffering data & control in external memory

Backpressure mechanism at ingress & egress using Ethernet flow control packets and programmable timers

Motorola MPC860-compatible MPU interface for status & control
Block Diagram of the Quad GbE Over SONET/SDH IP Core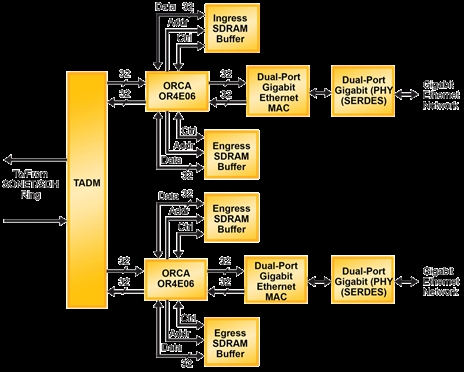 ---
View Quad GbE Over SONET/SDH full description to...
see the entire Quad GbE Over SONET/SDH datasheet
get in contact with Quad GbE Over SONET/SDH Supplier