You are here:
Radio Clock (DCF77) Slave core
NetTimeLogic's DCFSlave Clock is a full hardware (FPGA) only implementation of a synchronization core able to synchronize to a DCF signal encoded as PWM. The encoding scheme is the one of the DCF77 sender near Frankfurt, Germany. The whole encoding, algorithms and calculations are implemented in the core, no CPU is required. This allows running DCF synchronization completely independent and standalone from the user application. The core can be configured either by signals or by an AXI4Light-Slave Register interface.

All calculations and corrections are implemented completely in HW.
Features
DCF Slave Clock

Supports DCF-77 format

Optional Signal Filter

DCF decoding and time format conversion

DCF supervision

Input delay compensation

Air propagation delay compensation

No Leap second handling and daylight saving time

Additional seconds correction to convert between UTC and TAI time (or any other time base)

Synchronization accuracy: +/- 10 ms

AXI4 Light register set or static configuration

Timestamp resolution with 50 MHz system clock: 20ns

Hardware PI Servo
Benefits
Coprocessor handling Radio Clock (DCF77) synchronization standalone in the core.

Simple interface
Deliverables
Source Code (not encrypted, not obfuscated)

Reference Designs

Testbench with Stimulifiles

Configuration Tool

Documentation
Applications
Distributed data acquisition

Ethernet based automation networks

Automation

Robotic

Automotive

Test and measurement
Block Diagram of the Radio Clock (DCF77) Slave core IP Core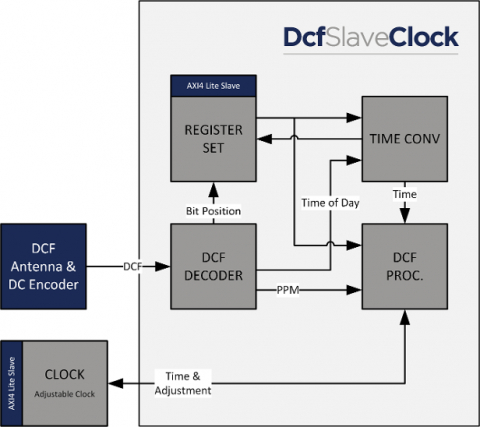 ---
View Radio Clock (DCF77) Slave core full description to...
see the entire Radio Clock (DCF77) Slave core datasheet
get in contact with Radio Clock (DCF77) Slave core Supplier