You are here:
Real-Time Ray Tracing GPU
RayCore Series 1000 is the world's first real-time ray-tracing GPU IP for mobile and embedded applications. This state-of-the-art GPU IP provides reality-like 3D graphics by fully supporting natural light effects such as reflection, refraction, transmission, and various types of shadow.

RayCore GPU IP is designed based on MIMD architecture. This approach enables more efficient execution of independent parallel tasks – each ray is regarded as an independent instruction. Due to this advantage, RayCore GPU maintains ray tracing performance regardless of ray coherence and scene characteristics and consequently supports real-time ray tracing.

Among many advantages of RayCore GPU IP, its high degree of scalability and simple integration configuration enable it to enhance graphics performance linearly with increasing number of RayCore. Its cost-performance ratio guarantees superior graphics processing capability and low power consumption.

Through integration into today's application processor, RayCore GPU IP offers unprecedented user experiences (e.g., dynamic customizable 3D UI, immersive 3D games, reality-like augmented reality, etc.) in a variety of devices including smartphones, tablets, handheld gaming devices, and TVs.

Features
The world's first real-time ray tracing GPU for mobile and embedded applications

Unprecedented 3D graphical experiences in UI/UX, game, augmented reality and the like can be realized in user's daily life

Fully hardwired ray tracing logic

RayCore's small form factor and low power consumption makes it possible to integrate ray tracing technology into application processor

Ray tracing based on MIMD architecture

Parallelized unified T&I (Traversal & Intersection) units designed based on MIMD architecture allow real-time ray tracing

High scalability in any application

In accordance with performance requirement, ray tracing graphics performance can be linearly enhanced with increasing number of cores
Benefits
Ray tracing functions

Real-time reflection / refraction / transmission / shadow

Colored shadow, textured shadow, multi shadows, semi-soft shadow

Ambient occlusion

Multiple ray bounces support (up to 15)

Lighting

Point light

Spot light

Directional light

Global lighting

Multi-light source support (up to 8)

Shading & texture mapping

Phong shading

Texture mapping

MIP mapping

Alpha-blending (α-texture)

Others

Anti-aliasing (super sampling)

Selective rendering

Dynamic / static scene support

Scalable architecture (multi-cores support)

Stereoscopic 3D display support
Block Diagram of the Real-Time Ray Tracing GPU IP Core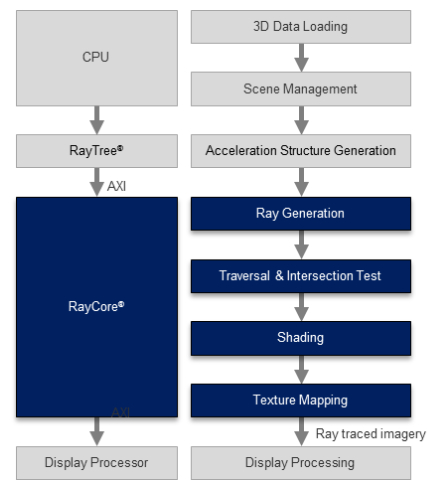 ---
View Real-Time Ray Tracing GPU full description to...
see the entire Real-Time Ray Tracing GPU datasheet
get in contact with Real-Time Ray Tracing GPU Supplier