You are here:
RF Power Amplifier Precorrection System
Digital Precorrection (Predistortion) system used to compensate for the non-linearity of an RF power amplifier. Compensates for both Gain and Phase. The design may be used in open-loop configuration or in closed-loop configuration as part of an adaptive precorrection system.

Complex LUT stores the inverse (AM-AM) and (AM-PM) characteristics of the Amplifier. Optional choice of programming interfaces (I2C, SPI or UART) may be provided as an extra.
Features
Corrects the PA Gain and Phase responses

16-bit signed (I/Q) inputs and outputs

256x32-bit LUT to store inverse PA characteristic

LUT initialized at compile time or modified in-circuit

Suitable for open or closed-loop operation

Operation at Baseband or IF frequencies

Typical improvements of 20dBs in the 'shoulders'

Pipeline latency of only 8 clock cycles
Benefits
Technology independent IP Core

Suitable for FPGA and ASIC

Supplied as human-readable source code

One-time license fee with unlimited use

Field tested and market proven

Any custom modification on request
Deliverables
VHDL source-code (or Verilog on request)

Simulation testbench

Examples and scripts

Full pdf datasheet

One-to-one technical support
Block Diagram of the RF Power Amplifier Precorrection System IP Core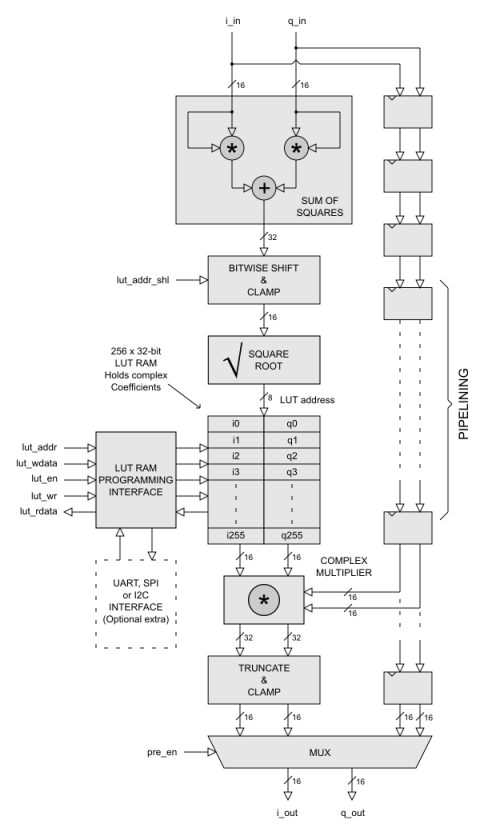 ---
View RF Power Amplifier Precorrection System full description to...
see the entire RF Power Amplifier Precorrection System datasheet
get in contact with RF Power Amplifier Precorrection System Supplier