You are here:
RivieraWaves 802.11ac (Wi-Fi 5) 4x4 MAC & modem
The 802.11ac IP solution is ideal for power sensitive applications such as smart phones, tablets, portable game console or digital cameras, but also digital TV, Set Top Box or Over The Top.

The licensable and silicon independent 802.11ac MAC and Modem core includes the lower MAC protocol software compliant with linux mac80211/cfg80211 UMAC. Combined with a 802.11ac radio IP, it allows customers to quickly develop high performance and cost effective 802.11ac solutions.
Features
802.11ac (Wi-Fi 5) MAC:

The RW-AC MAC core implements the(Wi-Fi 5 (802.11a/b/g/n/ac) standard with data rates of up to 1.7Gbps for 4x4 with 4 spatial streams configuration. It also supports the 802.11e standard (QoS) and the 802.11i standard (Security) extensions.

RivieraWaves' profound expertise in wireless communications resulted in the highly optimized MAC core with special focus on low memory and MIPS requirements while maintaining a small gate count. The MAC core interfaces to the ARM standard AMBA bus.

802.11ac (Wi-Fi 5) Modem:

The RW-AC 802.11ac (Wi-Fi 5) 4x4 software defined modem is optimized for use with the RW-AC MAC IP to form a high performance and cost effective 802.11ac solution. The turnkey architecture is based on a CEVA-XC powerfull DSP, complemented by minimum hardware accelerators and driven by an optimized firmware to fulfill the PHY functions. The supported features are:

Modulation Coding Schemes (MCS) from 0 to 9

20MHz, 40MHz and 80MHz bandwidths

Support all antenna configurations from 2x2 to 4x4

Full implementation of OFDM processing up to the radio interface:

Scrambling

FEC coding, Viterbi encoding/decoding

Interleaving

FFT

Timing, phase and frequency synchronization

Channel estimation & compensation

Reference digital front end with filtering, radio controller and software defined AGC/CCA state machine for highest flexibility
Benefits
low MIPS requirement

high performance

scalable
Deliverables
hardware: verilog RTL, testbench, compilation, simulation and synthesis scripts

software: C

documents

test tool running on Windows
Applications
Home gateway, hotspot, digital TV, Set Top Box, Over The Top, small cells
Block Diagram of the RivieraWaves 802.11ac (Wi-Fi 5) 4x4 MAC & modem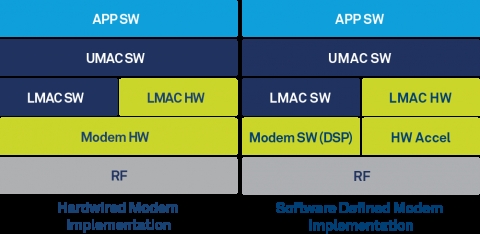 ---
View RivieraWaves 802.11ac (Wi-Fi 5) 4x4 MAC & modem full description to...
see the entire RivieraWaves 802.11ac (Wi-Fi 5) 4x4 MAC & modem datasheet
get in contact with RivieraWaves 802.11ac (Wi-Fi 5) 4x4 MAC & modem Supplier