You are here:
Scalable and Programmable Co-processor
This IP Core is a scalable and programmable co-processor for the signal processing of complex embedded digital signal processing (DSP) systems. This DSP IP Core is a scalable processor architecture that perfectly allies hardware computational power with the flexibility of software.
Features
Hardware scalability to offer the best cost-performance trade-off

Hardware complexity can be adapted to the application

Low power solution (specialized hardware operator to reduce the power consumption)

Highly parallel single instruction multiple data (SIMD) processor architecture

Programmable Software-defined solution for flexible DSP components

Flexible signal processing circuits with reduced development effort (20x lower than hard-wired design)

Programmable Software signal processing core that avoids the development of dedicated hard-wired accelerators

Easy support of standard revisions

Easy product maintenance

Easy design of multi-standard applications (multi-standard support: 4G/5G, LTE, DVB-T2, DVB-S2, …)

Enables complex DSP and high data-rate communication system design

Complex DSP algorithms management

Complex vector processing optimization

Very high system performance and computing power

Can be optimized for FPGA and ASIC targets

Easy migration from FPGA to ASIC

FPGA prototyping before tape-out
Benefits
Pulsar DSP IP Core offers THE most flexible and reliable solution for the design of complex high-end signal processing electronic circuits
Deliverables
Pulsar RTL hardware design in synthesizable VHDL code

Pulsar C++ bit and cycle accurate model available for very fast C++/VHDL/Verilog simulation (1000 time faster than synthesizable VHDL model)

Associated development tools, comprising starting libraries, Makefile add-ons, sample codes and simulation platform
Block Diagram of the Scalable and Programmable Co-processor IP Core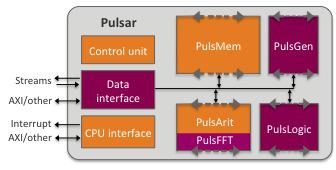 ---
View Scalable and Programmable Co-processor full description to...
see the entire Scalable and Programmable Co-processor datasheet
get in contact with Scalable and Programmable Co-processor Supplier