You are here:
SD Video Codec Companion Solution
The SD Video Codec Companion Solution enables flexible multi-standard de- and en coding at very low silicon cost and extended battery life at the same time. It supports the widest range of video encoding and decoding standards plus value-add image/video processing features and is field-upgradeable for extended product lifetime.

Easy system integration of the SD Video Codec Companion Solution is facilitated through a generic interface to industry-standard bus systems and a generic memory interface to the system CPU.

Coming with a fully optimized application suite and comprehensive integration support, the SD Video Codec Companion Solution is truly a one-stop solution for cost-sensitive video communication and playback devices.
Features
Companion solution

Smallest silicon footprint

Highest integration flexibility

Flexible load balancing with host CPU

Multi-standard video codecs

H.264/AVC, MVC

MPEG-4, DivX, XviD, H.263, Flash (Sorenson)

WMV-9/VC-1, RealVideo 8/9/10

Google VP8 / WebM Project, On2 VP6

MPEG-2, MPEG-1, JPEG

Extensible to further standards on same silicon, e.g., H.265/HEVC

Value-add image/video processing features

Image enhancements, rotation, scaling

Graphic overlays, blending, picture in picture

Deinterlacing, denoising, deblocking

Color conversion (RGB/YUV, YUV/RGB)

Error robustness

Customer-specific extensions

Very small silicon area footprint

98kgates core logic + 24kB…40kB memories

Target technologies: 90nm…22nm

0.37mm2 silicon area in 40nm technology incl. synch. bus interface & all memories

Ultra low power consumption for extended battery life

Only 5mW for H.264 BP D1@30fps decoding in 40nm technology

Very low clock frequency requirements for advanced video functions

Easy system integration

Seamless integration with industry standard system CPUs: ARM, MIPS, custom CPU

SoC bus interface options: 32/64 bit, synchronous/asynchronous

AMBA AHB, AXI, OCP, others

Short time to market & future proofness

Reliable core, pre-verified in silicon

Various FPGA prototyping platforms supported

Field-upgradeable features and codecs by firmware download

Complete solution

Comprehensive applications suite, fully optimized for performance and resource usage

Fully documented API in C source code for codecs and features

Example integration in application framework

One-stop offer including full integration support options
Benefits
Highest flexibility companion solution

Works with any host CPU

Very small area footprint

Ultra low power

Encoding & decoding on single footprint

Field-upgradeable codecs and features
Applications
Mobile TV, DVB-H, DMB

Portable media player

Car infotainment

Video playback

Streaming video

Camcorder, DSC

Voice & Video over IP
Block Diagram of the SD Video Codec Companion Solution IP Core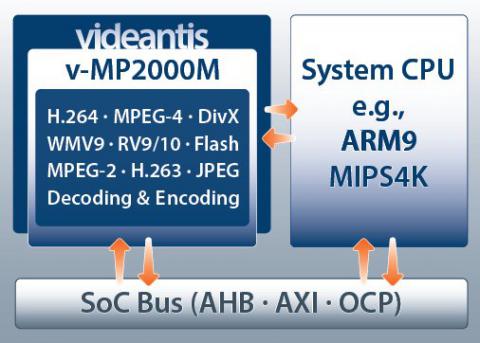 ---
View SD Video Codec Companion Solution full description to...
see the entire SD Video Codec Companion Solution datasheet
get in contact with SD Video Codec Companion Solution Supplier