You are here:
SD video codec integrated solution
The SD video codec integrated solution comprises both multi-standard stream processing and video processing units in a standalone subsystem with minimum load on the host CPU.

Multi-standard decoding up to SD resolution is supported for a wide and extensible range of video standards like H.264 BP, MPEG-4 SP/ASP (DivX), WMV9/VC-1 SP/ MP, and Google VP8 / WebM Project with upgradeability to further standards on the same device as needed.

For multi-standard video encoding like H.264 BP, MPEG-4 SP/ASP, and H.263, the v-MP2010MOB supports an enhanced set of compression tools to achieve high video quality at reduced bitrates.

Still image JPEG encoding and decoding is supported at a pixel rate up to 25MPixel/s. Furthermore, a wide range of value-add image and video processing features can be performed in parallel to decoding or encoding.

The SD video codec integrated solution is available as a drop-in solution proven in real system environments and optimized to tolerate long memory access latencies of real-world systems. Extensive conformance testing has been performed to assure high product quality and full customer satisfaction. Through its field upgradeability in silicon, the SD video codec integrated solution provides a future-proof solution for extended product lifetimes through the addition of further standards and value-add features simply by firmware update.
Features
Integrated solution

v-MP2000M video engine + v-SP1200 multistandard stream unit

Minimum load on host CPU

Multi-standard video codecs

H.264/AVC, MVC

MPEG-4, DivX, XviD, H.263, Flash (Sorenson)

WMV-9/VC-1, RealVideo 8/9/10

Google VP8 / WebM Project, On2 VP6

MPEG-2, MPEG-1

JPEG still image decode & encode up to 25MPixel/s

Extensible to further standards on same silicon, e.g., H.265/HEVC

Value-add image/video processing features

Image enhancements, rotation, scaling

Graphic overlays, blending, picture in picture

Deinterlacing, denoising, deblocking

Color conversion (RGB/YUV, YUV422/420)

Performed in parallel to decoding

Very small silicon area footprint

190kgates core logic + 76kB memories

Target technologies: 90nm…22nm

0.7mm2 silicon area in 40nm technology incl. sync. bus interfaces & all memories

Low frequency requirements, ultra low power consumption for extended battery life

Reduced switching activity for ultra low power consumption through optimized architecture

Easy system integration

SoC bus interface options: 32/64 bit, synchronous/asynchronous

AMBA AHB, AXI, OCP, others

Short time to market & future proofness

Reliable core, pre-verified in silicon

Various FPGA prototyping platforms supported

Field-upgradeable features and codecs by firmware download

Ready to use

Extensive conformance testing

OpenMAX IL 1.1 support for seamless integration into mobile environments

Complete solution

Comprehensive applications suite, fully optimized for performance and resource usage

Fully documented API in C source code for codecs and features

Example integration in application framework

One-stop offer including full integration support options
Benefits
Integrated solution

Minimum load on host CPU

Ultra low power for extended battery life

Very small area footprint

De- & encoding on single footprint

Field-upgradeable codecs and features
Applications
Feature phone, smart phone

Mobile Internet device (MID)

Personal navigation device (PND)

Car infotainment

Portable media player (PMP)

Mobile TV, DVB-H, DMB

Streaming video
Block Diagram of the SD video codec integrated solution IP Core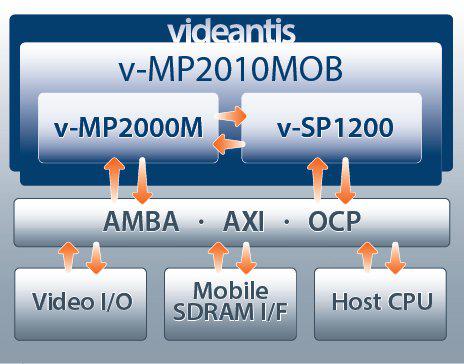 ---
View SD video codec integrated solution full description to...
see the entire SD video codec integrated solution datasheet
get in contact with SD video codec integrated solution Supplier