You are here:
SDXC Host Controller
iW-SDXC Host controller is compatible with the SD Physical Layer specification V3.0. The core supports 32 bit AHB LITE Host interface working at SOC interface frequency. The Host interface is compatible with the standard register set for the host controller as per SD host controller specification Version 3.0.
Features
Compliant with SD specification version 3.0

Supports 32 bit AHB LITE synchronous Host interface working at SOC interface frequency.

1-bit/4-bit modes of SD/SDIO supported.

Supports following UHS –I modes of operations.

DS – Default speed mode up to 25MHz 3.3V signaling

HS – High Speed mode up to 50MHz 3.3V signaling

SDR12 – SDR up to 25MHz 1.8V signaling

SDR25 – SDR up to 50MHz 1.8V signaling

SDR50 – SDR up to 100MHz 1.8V signaling

DDR50 – DDR up to 50MHz 1.8V signaling

One data Transmit FIFO with 32-bit write width and 256 depths.

One data Receive FIFO with 32-bit read width and 256 depths.

SDIO Interrupts, Suspend/Resume Operation and SDIO Read Wait Operation are supported.

Buffers to store the response received.

Command buffers to store command index and argument.
Benefits
To give the latest SD specification version support SD 3.0

To enable memory storage (SDXC memory card) and input/ output (SDIO card) features in the product
Deliverables
Applications
Handheld devices and consumer electronics

SOC Integration with processor, where the processor in the platform doesn't support SDXC interface
Block Diagram of the SDXC Host Controller IP Core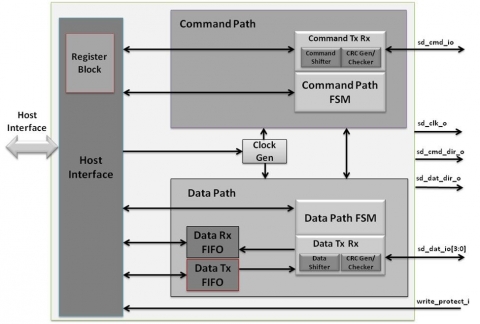 ---
View SDXC Host Controller full description to...
see the entire SDXC Host Controller datasheet
get in contact with SDXC Host Controller Supplier