You are here:
Serial FPDP IP Core
sFPDP IP Core is based on ANSI/VITA 17.1-2003 Standards. This IP core provides a relatively simple protocol using maximum available data throughput with a minimum protocol for point-to-point data links. sFPDP links support a wide range of physical interfaces with the most common option being 2.5 gigabits per second multimode fiber.
.
Features
Compliant with ANSI/VITA 17.1-2003 Serial FPDP standard

Supported link speeds

1.0625 Gbaud

2.125 Gbaud

2.5 Gbaud

Data Frames supported

Unframed Data

Single Frame Data

Fixed Size Repeating Frame Data

Dynamic Size Repeating Frame Data

System Configurations supported

Basic System

Flow Control

Bi-directional Data Flow

Copy Mode

Copy/Loop Mode

Host-Bus interface

Configurable parametersTransmit FIFO depth

Receive FIFO depth

Transmit FIFO watermark to assert SUSPEND output

Transmit FIFO watermark for TX FIFO Overflow signal generation

Receive FIFO watermark for STOP/GO signal generation
Benefits
This intellectual property core can be implemented on any transceiver based Xilinx/Altera/Lattice FPGAs.
Deliverables
Applications
Digital Signal Processing

Radar ,Sonar ,Range & Telemetry Systems

Instrumentation Recording Systems

High Speed Data Acquisition

Satellite Download

SIGINT – COMINT/ELINT

Medical: Medical Imaging

High Resolution Video

Storage Applications

Digital Receivers

Test Equipments

Spectrum and transient analysis
Block Diagram of the Serial FPDP IP Core IP Core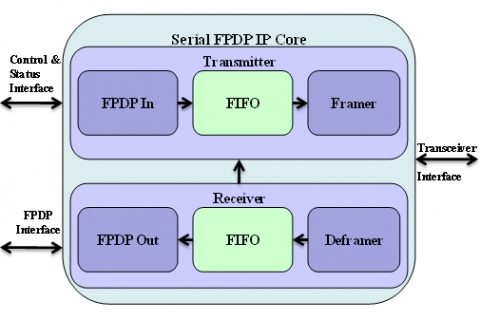 ---
View Serial FPDP IP Core full description to...
see the entire Serial FPDP IP Core datasheet
get in contact with Serial FPDP IP Core Supplier