You are here:
SerialLite PHY with PCS
The VSG1G55SL2 is an enhanced High-Speed SerialLite macro with data transfer capabilities of up-to 3.125Gbps. It includes the PCS layer within the Macro and is capable of directly interfacing with the ASIC core. In addition, on the same footprint using Gigacom's technology, it includes a standard JTAG interface, Scan interface and a Serial interface.

Features
Standards Compliance

SerialLite

8b/10b encoding

IEEE 1149.1

High-Speed Data Transfer

Up-to 3.125Gbps per lane

Up-to 8 lanes, for a combined total of 50Gbps

Low Power

Automatic shut-off when not enabled ensures minimum power consumption

Protocol features

Streaming or packet-based protocols

Nesting for time-critical control packet

Lane polarity reversal

Error detection

Packet retransmit on error for priority packets

On-Chip IO ring compatibility

Designed as an IO-ring component

Small footprint

Wire-Bond and Flip-Chip compatible

Clocking

Flexible clocking options, including internal and external, direct or crystal-based

Optional Features

JTAG Interface

Embedded TAP controller

Extensive Test and Debug Features

Scan

DC JTAG

Serial Debug Access

Configurability

Programmable lane enable/disable

Choice of macros pre-configured for 1 to 8 lanes
Benefits
Integrated PCS Layer

Low power & area

Test Silicon

Integration support

Customization based on customer requirement
Deliverables
Complete set of logical views, physical views, and documentation, including a Verilog model, a UVM-based verification environment, abstract view, liberty files, GDS-II and netlist
Applications
Standard SerialLite Specification

Packet or streaming data applications for chip2chip, board2board, shelf2shelf or backplane

High-Speed Debug/Test data transfer

Real-Time monitoring of on-chip signals/bus

Silicon Debug
Block Diagram of the SerialLite PHY with PCS IP Core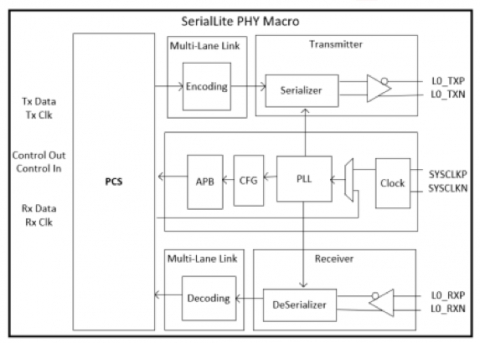 ---
View SerialLite PHY with PCS full description to...
see the entire SerialLite PHY with PCS datasheet
get in contact with SerialLite PHY with PCS Supplier