You are here:
SPI to AMBA AHB Master Bridge
The SPI to AMBA AHB Master Bridge Design IP offers a simple solution to provide "backdoor" access from external SPI master devices to the embedded AMBA AHB bus. The SPI to AMBA AHB Bridge utilizes a simple but effective protocol for reads and writes over the chip-embedded AMBA AHB. The SPI transactions are protected in both directions by a CRC checksum field The external SPI device can be a CPU such as a Tegra, OMAP or other similar device. Driver development for such devices to support the Veriest SPI to AMBA AHB Bridge is very simple.
Features
Serial SPI Compatible

Low Pin Count Interface (4 pins)

Can be shared with other chip I/O functions

AMBA AHB 3.0 Compatible

Compatible with NVIDIA Tegra devices

Compatible with Texas Instruments OMAP devices

Simple SPI Protocol supporting Reads and Writes

CRC protection in both directions

Transfer Acknowledge and Error Detection

Security Features can be added upon request
Benefits
Low Gate Count

Low Power Consumption

Fully Verified

Spyglass Lint Validated

Standards Compliant
Deliverables
Synthesizable Verilog RTL

Verilog test bench and test cases

Detailed block diagram and technical documents
Applications
General System on Chip Use
Block Diagram of the SPI to AMBA AHB Master Bridge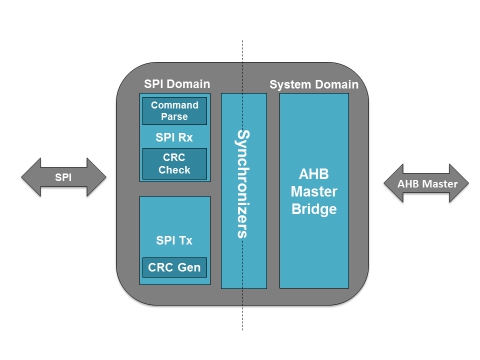 ---
View SPI to AMBA AHB Master Bridge full description to...
see the entire SPI to AMBA AHB Master Bridge datasheet
get in contact with SPI to AMBA AHB Master Bridge Supplier