You are here:
syn1588® enabled IEEE 1588 compliant clock synchronisation
The syn1588® Clock_M IP core offers the full syn1588® technology with a suitable number of trigger and IO events supported. The syn1588® Clock_M IP core is suited for direct integration of a MAC and/or a processor on a single chip (SOC/SOPC design). A standard AHB interface (slave) is available for communication to the host processor executing the PTP Stack.



A typical application example is the syn1588® PCIe NIC. A standard PCIe Ethernet network interface card is made up of a single FPGA that includes the syn1588® Clock_M IP core as well as the Ethernet MAC and the PCIe interface
Features
fully synchronous to the system clock

all registers of the core operate with the rising clock edge

well commented, structured VHDL source code

medium footprint and medium I/O count

AHB type slave interface for clock control using independent CPU clock domain

media independent interface (MII or GMII) for IEEE1588 message detection

optional user-programmable time stamper unit

Oregano Systems' patented on-the-fly time-stamping (1-step operation)

100/1000 Mbit/s Ethernet interface supported

10 Gbit/s Ethernet interface (XGMII)

New! 25 Gbit/s Ethernet interface (25GMII) available upon request

two timestamp input signals (EVENT function). One EVENT input offers FIFO to capture dense events. This can be used to synchronize to an external GPS-based time source via a 1 PPS signal. Minimum pulse width is 3 x syn1588® clock period.

Generation of two a-periodic, one-time events (TRIGGER function). One TRIGGER output offers FIFO to generate dense events. TRIGGERs may be used to start the PERIOD function to allow a precise absolute phase definition in the whole PTP network

two PERIOD outputs allowing generation of periodical signals (clocks) in a frequency range from mHZ to MHz with a resolution of 2-45 ns

one 1 pulse per second (PPS) output

generation of digital IRIG-B output stream (DCLS mode IRIG-B000)

decoding of digital IRIG-B input stream (DCLS mode IRIG-B000)

generation of interrupts upon external and internal events

pipelined adder based clock for best synchronization results

separate receive and transmit timestamp FIFOs

clock time format compatible to the IEEE1588 standard

suited for FPGA as well as ASIC implementations

optional SMPTE 2059 compatible signal generation
Block Diagram of the syn1588® enabled IEEE 1588 compliant clock synchronisation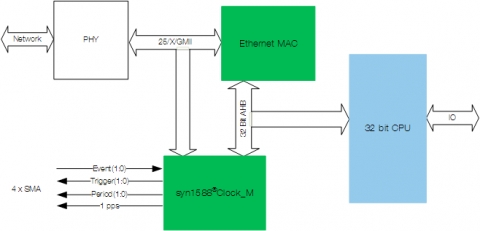 ---
View syn1588® enabled IEEE 1588 compliant clock synchronisation full description to...
see the entire syn1588® enabled IEEE 1588 compliant clock synchronisation datasheet
get in contact with syn1588® enabled IEEE 1588 compliant clock synchronisation Supplier