You are here:
Time Sensitive Networking (TSN) IIC(R) Plugfest Application core
The TSN Industrial Internet Consortium(R) (IIC) Plugfest Application is a companion core for the TSN IP cores from NetTimeLogic. The IIC(R) Plugfest Application implements an OPC/UA Talker, Listener, Analyzer and Publisher according to the interoperability application used at the IIC(R) TSN Testbed, as well as the IIC(R) LED Strip Application and a LED Pattern generator. It also offers an external application interface to connect a custom application to the Plugfest Application without the need to handle frame encoding/decoding in the application or a specific timing.

The Talker will send periodically, precisely timely aligned OPC/UA frames with hardware timestamps and data encapsulation.
The Listener will parse and extract the data and meta data from the OPC/UA frames and take hardware timestamps on reception which will be used by the Analyzer and Applications.
The Analyzer and Publisher calculates statistics over the received OPC/UA frames and publishes the statistics via frames for status supervision and analysis.

The LED Application is a PWM generator for the LED brightness based on the data from the Listener according to the LED Strip Application defined by the IIC(R). It also has a LED pattern generator which is connected to the Talker as the counterpart to the LED Appliction.

The Core connects to the TSN cores via AXI stream with two differnet streams: a high priority and a best effort stream and uses the status information from the TSN core as input for the OPC/UA frames.

The core gives a fast and easy solutionto take part in the IIC(R) Testbed/Plugfests.

All tables, protocols and algorithms are implemented completely in HW in the core, no CPU is required, except for configuration. This allows running OPC/UA stream handling in hardware without an OPC/UA software stack.
Features
FPGA only implementation of an OPC/UA Talker, Listerner, Analyzer and Publisher according to the IIC(R) TSN Interoperability Application specification

LED Application and LED Pattern Generator according to the IIC(R) LED Strip Application specification

Simple external Application interface for custom data sources and sinks without the need for frame handling in the application.

Compatible with NetTimeLogic TSN cores (TSN Network Node, TSN End Node)

Hardware timestamping

Full line speed

AXI4 Light register set

AXI4 Stream Interface support
Benefits
Coprocessor handling the IIC(R) Plufest Application completely standalone in the core.

No Software Stack required
Deliverables
Source Code (not encrypted, not obfuscated)

Reference Designs

Testbench with Stimulifiles

Configuration Tool

Documentation
Applications
Distributed data acquisition

Ethernet based automation networks

Automation

Robotic

Automotive

Test and measurement
Block Diagram of the Time Sensitive Networking (TSN) IIC(R) Plugfest Application core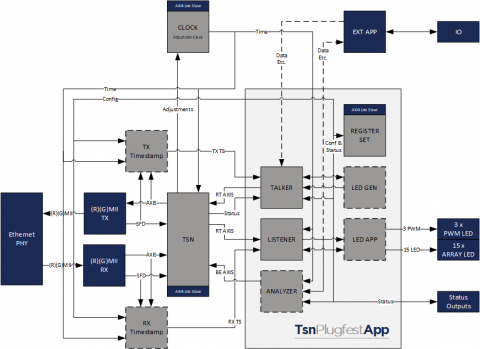 ---
View Time Sensitive Networking (TSN) IIC(R) Plugfest Application core full description to...
see the entire Time Sensitive Networking (TSN) IIC(R) Plugfest Application core datasheet
get in contact with Time Sensitive Networking (TSN) IIC(R) Plugfest Application core Supplier