You are here:
UFS 3.0 Host Controller compatible with M-PHY 4.0 and UniPro 1.8
Arasan's Universal Flash Storage 3.0 (UFS 3.0) is a simple but high performance, serial interface primarily used in mobile systems, between host processing and nonvolatile eXecute-In-Place (XIP) or mass storage memory devices.

Mobile phones, UMPC, DSC, PMP are some of the typical applications for UFS Host Controller IP. Majority of these applications require mass storage and bootable storage memory with an option for an external card.

The IP incorporates the latest UFS Host Controller Interface (HCI) version 3.0. Arasan's MIPI M-PHY® HS-G4 IP is available in GDSII format for a variety of process technologies and MIPI UniProSM version 1.8 link layer with support for multi-lane operation and the optional Unified Memory Architecture (UMA) implementation.

Features
UFS 3.0 Host and Device configurations available

Complete UFS 3.0 hardware implementation

Interop-proven UniPro 1.8 link layer

MIPI M-PHY 4.0 Interface

High speed mode Gear 1, Gear 2 , Gear 3 and Gear 4.

Supports 2 lanes for 23.3 Gbps max bandwidth

Task management operations

Supports multiple partitions (LUNs) (to dummy memory) with partition management

Definable write-protect group size

Boot mode operation

Device enumeration and discovery

Background operations

Secure Erase and Trim operations enhance security

Supports Write-protect options
Benefits
Seamless integration from PHY to Software

Assured compliance across all components

Single point of support

Easiest acquisition process (one licensing source)

Lowest overall cost including cost of integration

Lowest risk for fast time to market
Deliverables
Synthesizable RMM compliant Verilog RTL code.

Easy-to-use comprehensive OVM/UVM based randomized test environment (Ref. Sec 8, UFS VIP).

Synthesis scripts

Technical documents

User guide
Block Diagram of the UFS 3.0 Host Controller compatible with M-PHY 4.0 and UniPro 1.8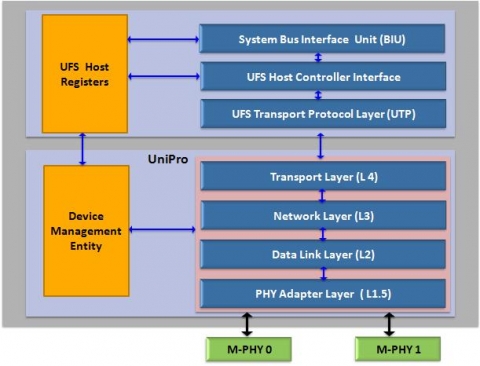 ---
View UFS 3.0 Host Controller compatible with M-PHY 4.0 and UniPro 1.8 full description to...
see the entire UFS 3.0 Host Controller compatible with M-PHY 4.0 and UniPro 1.8 datasheet
get in contact with UFS 3.0 Host Controller compatible with M-PHY 4.0 and UniPro 1.8 Supplier