You are here:
UHS-II DEVICE CONTROLLER
UHS-II is Ultra High speed type II controller for high speed transfers used in SD application for High definition contents. Key factors includes reusability of legacy resources, low voltage ,low power consumption and low EMI used in mobile devices. The type of connection topology supported by L&T's UHS
Full Duplex Mode(FD mode) -Lane consists of one Transmitter port, Receiver Port and transmission clock. Data rate up to 156MB/s
Half Duplex with 2lanes mode(2L-HD Mode)-Changes the lane directions to 2lane mode during data transfer to achieve data rate up to 312MB/s.
Full Duplex with 2 Downstream and 1 upstream lane mode (2D1U-FD Mode)
Full Duplex with 1 Downstream and 2 upstream lane mode (1D2U-FD Mode)
Full Duplex with 2 Downstream and 2 upstream lane mode (2D2U-FD Mode)
Features
Compliance with Part 1 UHS-II Addendum Version 1.02

Compliance with Part A2 SD Host controller specification version 4.10 & Part1 Physical layer specification version 4.20

Programmable 1 or 2 Data lane Configuration

Supports all type of packets

Compatibility with Legacy SD interface

APB for Register configuration

AHB for Read/Write Data Transfer

Supports fast mode and low power mode

Supports flow control operations.

Supports command Queuing, Relaxed Ordering and inter-device communication

Supports data transaction for SD-TRAN and CM-TRAN

Configurable FIFOs
Block Diagram of the UHS-II DEVICE CONTROLLER IP Core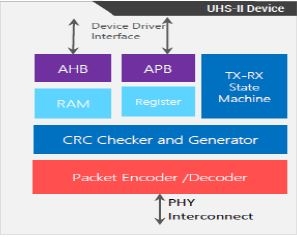 ---
View UHS-II DEVICE CONTROLLER full description to...
see the entire UHS-II DEVICE CONTROLLER datasheet
get in contact with UHS-II DEVICE CONTROLLER Supplier