You are here:
Ultra low-latency 10Gbit/s Ethernet MAC
The 10G Ethernet MAC (XGMAC) for FPGAs is an ultra-low latency, low gate count 10Gbit IP that simplifies the FPGA integration of ultra-fast 10Gbit/s Ethernet.
XGMAC is an all- RTL design to achieve the lowest possible latency, and is fully compliant with the IEEE802.3 specification. The FIFO application interface can be configured for either Xilinx or Altera.
XGMAC is easily integrated into high end FPGAs such as Virtex 6, 7 series (Xilinx) & Stratix, Arria (Altera).
The smooth integration of the XGMAC into your product is supported by reference designs, concise code documentation, and access to expert engineers.

Features
Designed to IEEE 802.3-2008 Specification

Low Latency 44.8 ns

Integrated FCS CRC32 check/generate

Small Footprint, 2749 LUTs

Flow Control option with Pause packets

Programmable max frame length

Reconciliation Layer -Local /Remote Faults

Programmable Inter Frame Gap

Deficit Idle Count for maximum throughput

Cut-through mode for lowest latency

Store-and-forward for minimum app load

MAC address filtering options

Detailed traffic analysis statistics collection

Optional MDIO master for controlling PHY
Benefits
Get up and running quickly with the reference design on an AlphaData ADMPCIE KU3, ADM-PCIE-8V3, ADM-PCIE-9V3 boards, or a Xilinx KC705 development board and a simple "ping" command line with the ICMP/ARP options. Use standard software TCP/UDP tools when integrated with the XGTCP IP block from Chevin Technology's portfolio of IP blocks.
Deliverables
Encrypted RTL/VHDL source code for simulation

Encrypted compiled netlist

Datasheet & User Guide to assist integration

Reference Designs for Alpha-Data boards

ADM-PCIE-KU3, ADM-PCIE-8V3, ADM-PCIE-9V3

Simulation Test bench

Build scripts for Vivado

Support for integration into FPGAs
Applications
Trade execution & monitoring

Data Storage & Capture systems

HPC / Big Data systems

Signal processing systems

Data Mining
Block Diagram of the Ultra low-latency 10Gbit/s Ethernet MAC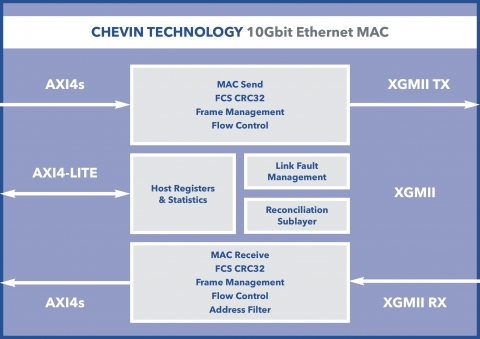 ---
View Ultra low-latency 10Gbit/s Ethernet MAC full description to...
see the entire Ultra low-latency 10Gbit/s Ethernet MAC datasheet
get in contact with Ultra low-latency 10Gbit/s Ethernet MAC Supplier