You are here:
Ultra Low Latency 25Gbit/s Ethernet MAC
The Chevin Technology 25GMAC IP core provides Ultra Low-Latency 25Gbit/s Ethernet connectivity in Xilinx Virtex® UltraScale™ FPGAs.

The 25GMAC can be integrated into customers' products with an external or internal PCS, however we recommend using Chevin Technology's 25GPCS for simplified integration and lowest possible latency.

Features
Designed to IEEE 802.3 Specification

Low Latency 20.5 ns

Integrated FCS CRC32 check/generate

Small Footprint, 2680 LUTs

Flow Control option with Pause packets

Programmable max frame length

Reconciliation Layer -Local /Remote Faults

Programmable Inter Frame Gap

Deficit Idle Count for maximum throughput

Cut-through mode for lowest latency

Store-and-forward for minimum app load

MAC address filtering options

Detailed traffic analysis statistics collection
Benefits
Exceptionally fast, reliable data transfer provides a competitive advantage

Cost effective, high performance IP core

Flexible licensing terms to suit customer requirements

Integration support available if required
Deliverables
Encrypted RTL/VHDL source code

Encrypted compiled netlist

Datasheet & User Guide to assist integration

Reference Design on Alpha-Data ADM-PCIE-8V3 board

Simulation Test bench

Build scripts for Vivado
Applications
• Trade execution & monitoring

• Science/ research

• Data Storage & Capture systems

• HPC / Big Data systems

• Signal processing systems

• Data Mining
Block Diagram of the Ultra Low Latency 25Gbit/s Ethernet MAC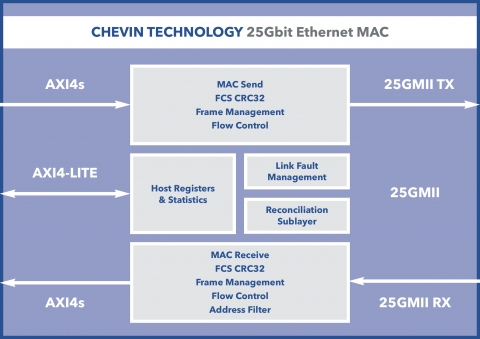 ---
View Ultra Low Latency 25Gbit/s Ethernet MAC full description to...
see the entire Ultra Low Latency 25Gbit/s Ethernet MAC datasheet
get in contact with Ultra Low Latency 25Gbit/s Ethernet MAC Supplier