You are here:
Ultra Low Latency 25Gbit/s Ethernet PCS
The Chevin Technology 25GPCS provides Ultra low-latency 25Gbit/s Ethernet connectivity in Xilinx Virtex® UltraScale™ FPGAs. Ultra-low latency is achieved by using only the PMA function in FPGA Multi-Gigabit transceivers, and moving all PCS functions to code that is optimized for 25GBASE-R. This allows the data to take the shortest and lowest latency path, to and from the wire. The 25GPCS /PMA core can be used directly with Multi-Gigabit Transceivers (SerDes & CDR logic) in Xilinx Virtex® UltraScale FPGAs for the lowest possible latency.
Features
Designed to IEEE 802.3by

Low Latency PCS/PMA (RTT) 99 ns

5250 LUTs

Integrated 64b66b encoder/decoder

Integrated Scrambler/Descrambler

Gearbox for rate conversion

Fault management, BER monitoring

Clock Rate adaptation, TX/ RX

Detailed traffic analysis statistics collection

XXVGMII interface, 64bit @ 390.625MHz

Connect directly using SFP28

Use 4-channel for QSFP28 interfaces
Benefits
Ultra Low Latency to reduce round trip time

High performance for exceptionally fast, reliable data delivery

Easy to integrate with other Chevin Technology IP cores
Deliverables
Encrypted RTL/VHDL source code

Encrypted compiled netlist

Datasheet & User Guide to assist integration

Reference Design for Alpha Data's ADM-8V3 board

Simulation Test bench

Build scripts for Vivado

Support for integration into FPGA
Applications
HPC / Big Data systems

Trade execution & monitoring

Data Storage & Capture systems

Signal processing systems

Data Mining
Block Diagram of the Ultra Low Latency 25Gbit/s Ethernet PCS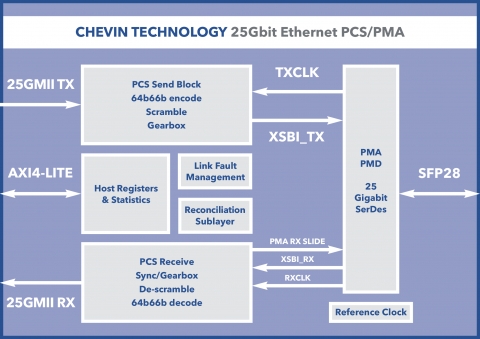 ---
View Ultra Low Latency 25Gbit/s Ethernet PCS full description to...
see the entire Ultra Low Latency 25Gbit/s Ethernet PCS datasheet
get in contact with Ultra Low Latency 25Gbit/s Ethernet PCS Supplier