You are here:
Ultra-Low Power eFPGA
Low power SoCs are constantly required to include new and innovative functions. As a result, designers are looking for hardware solutions with the flexibility to add new features and still meet tight deadlines. Adding ArcticPro™ ultra-low power eFPGA is an ideal solution that can be customized to implement post production changes without costly and time consuming redesign.

Features
Flexibility

Supporting changing requirements, multiple un-ratified standards, multiple chip variants

Lower R&D Costs

Reduces total development cost and time to bring multiple SoCs to market

Increase Performance

Integration in of eFPGA into SoC increases performance by eliminating chip-to-chip delays

Lower System Power Consumption

QuickLogic has optimized eFPGA from the ground up for low power

Possible integration of hardware accelerators using programmable logic to offload main CPU

Fine-Grain architecture

LookUp Tables

Two independent LUT3s or One LUT4

Multiplexers

Up to 8:1 mux & independent 2:1 mux

Optional Flip Flop

Multiple inputs and outputs enable independent logic to share the same logic cell

This leads to much higher logic cell utilization in 'real life' designs
Block Diagram of the Ultra-Low Power eFPGA IP Core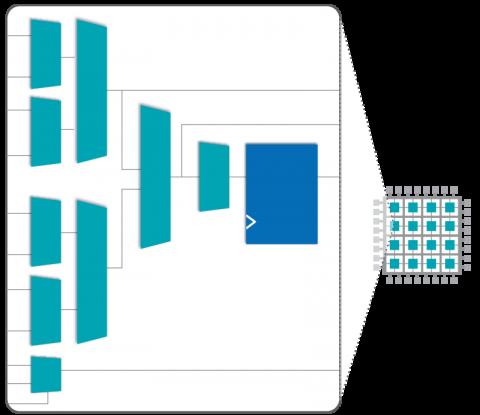 ---
View Ultra-Low Power eFPGA full description to...
see the entire Ultra-Low Power eFPGA datasheet
get in contact with Ultra-Low Power eFPGA Supplier