You are here:
Ultra-low voltage and current references
Seamless Microsystems' (SMI) SMBGREF28 is a silicon-proven bandgap reference with accurate voltage output
and optional current outputs and digital trimming capabilities. Using only a 0.9V core supply, the 0.45V reference
shows exceptional stability over a temperature range of 0 to 100C, while exhibiting only a 3% error across process,
without any digital tuning.
Features
0-100C temperature range

Single Core supply voltage (0.9V)

Voltage reference output of 0.45V

Low-power < 0.3mW

Optional digital tuning

No external components needed

Silicon-proven in TSMC 28nm HPM process

Optional PTAT current reference
Benefits
Ultra low noise operation
Deliverables
GDSII

LEF Abstract

Behavioral Verilog-VAMS

Liberty.lib

Integration guide
Applications
5G communication systems, imaging and LiDAR
Block Diagram of the Ultra-low voltage and current references IP Core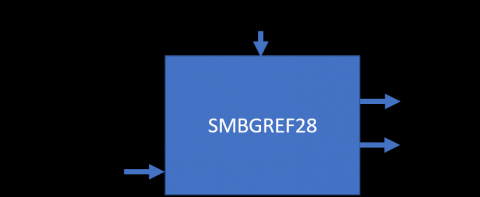 ---
View Ultra-low voltage and current references full description to...
see the entire Ultra-low voltage and current references datasheet
get in contact with Ultra-low voltage and current references Supplier