You are here:
USB 2.0 On-The-Go Controller
The Arasan USB 2.0 OTG IP Core is compliant with the OTG Supplement Rev. 1.0a. The USB 2.0 OTG core supports both Host Controller, Device Controller and OTG functionality. When operating as a host (A-device), it supports 480 Mbit/s in High Speed (HS) mode, 12 Mbit/s in Full Speed (FS) mode, and 1.5 Mbit/s in Low Speed (LS) mode. When operating as a peripheral (B-device), it supports HS and FS modes.
Session Request Protocol (SRP) and Host Negotiation Protocol (HNP) are managed by the SRP/HNP Control Logic. SRP allows a B-device to request an A-device to turn on Vbus to start a session. HNP allows two connected dual-role devices to change roles and eliminates the needs for the user to switch cable connections. The Vbus Control Circuit supports: a) the generation of data-line pulsing and Vbus pulsing methods when initiating the SRP as a Bdevice, b) the detection of both pulsing methods when acting as an A-device, and c) the sourcing of a minimum of 8 mA on Vbus. The Vbus Control Circuit also handles the pull-up and pull-down connections to D+ and D- during host/device role switching. The SRP/HNP Logic and Vbus Control Circuit control the operating mode of an USB port as either a host or peripheral. The Arasan USB 2.0 OTG port requires an external USB 2.0 transceiver with a standard UTMI interface.
The Arasan USB 2.0 OTG IP Core offers a high level of flexibility, allowing designers to implement the USB 2.0 OTG port with a wide selection of processor interfaces. AHB, PCI, and Custom buses are available to provide a high-speed connection to the USB interface.
The Arasan USB 2.0 OTG IP Core is augmented by the availability of the Arasan OTG Software Stack that supports host driver, device driver, class of devices, and Linux operating system.

Features
High speed support: 480 Mbit/s

Full speed support: 12 Mbit/s

USB 2.0 Compliant

High/Full speed support using 8/16 bit UTMI/ULPI interface

Master DMA implementation for each endpoint

Optional PIO Mode for each endpoint (can be used for Interrupt endoints)

System bus Master/Target clock

UTMI Interface Clock: 30/60 MHz

Endpoint Configuration

Configurable up to 15 Tx and Rx endpoints

Configuration options: Bulk, control, isochronous, interrupt

Dedicated control endpoint zero

Configurable dual port RAM shared between endpoints

USB Suspend/Resume support

32/64 bit AXI, AHB or OCP bus interfaces
Benefits
Fully compliant to USB 2.0 specifications

Highly flexible and configurable

Ideal for easy and cost-effective device integration

Premier direct support from Arasan IP Engineering Team
Deliverables
RMM-compliant synthesizable RTL design in Verilog

Easy-to-use test environment

Synthesis scripts

Technical documents

Simulation scripts
Block Diagram of the USB 2.0 On-The-Go Controller IP Core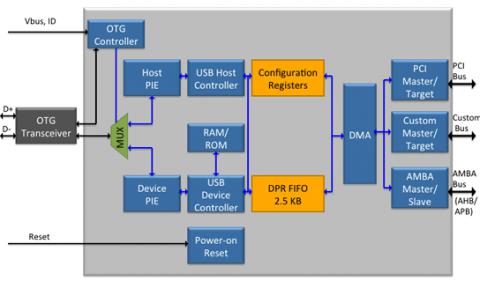 ---
View USB 2.0 On-The-Go Controller full description to...
see the entire USB 2.0 On-The-Go Controller datasheet
get in contact with USB 2.0 On-The-Go Controller Supplier