You are here:
USB 2.0 PHY IP
The USB2.0 PHY IP is a complete physical layer (PHY) IP solution designed for low power and peak performance. The USB2.0 IP implements a High-Speed USB 2.0 transceiver for use with either host and device function controllers. Compliant with the UTMI+ level 3 specification, the USB2.0 PHY IP integrates mixed-signal circuits to support High-Speed data rate at 480Mbps and is backward compatible to Full-Speed (12Mbps) and Low- Speed (1.5Mbps) data rates. Targeting mobile and consumer product applications, the USB2.0 PHY IP also supports the supplementary USB Battery Charging specification.

The USB2.0 PHY IP transceiver is optimized for low power consumption and minimal die area (sub-0.18mm2), without sacrificing performance and high-data throughput. The
USB2.0 PHY IP comprises a complete on-chip physical transceiver
solution with ElectroStatic Discharge (ESD) protection, clock
generation block provided by an internal PLL, and a resistor termination calibration circuit to ensure full support for host and device functionality.
Features
Fully compliant with USB 2.0 specifications

Supports the UTMI+ level 3 specifications

Supports USB Battery Charging

Supports 480 Mbps High-Speed (HS), 12 Mbps Full-Speed (FS), and 1.5 Mbps Low-Speed (LS) data transmission rates

Can be configured as host controller or device peripheral

Utilizes 8-bit interface at 60MHz operation or 16-bit interface at 30MHz operation

Supports USB 2.0 Test Mode

Built-in self test mode to validate highspeed, full-speed and low-speed functionality

Single parallel data clock output with on-chip PLL to generate higher speed serial data clocks

Selectable input reference clock frequency (12/24/25MHz)

Available in both 1-port and 2- port configuration
Block Diagram of the USB 2.0 PHY IP IP Core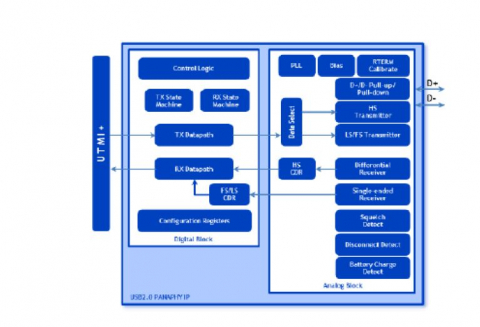 ---
View USB 2.0 PHY IP full description to...
see the entire USB 2.0 PHY IP datasheet
get in contact with USB 2.0 PHY IP Supplier