You are here:
HSIC USB 2.0 PHY IP
The USB 2.0 HSIC PHY IP is a cost effective and lower power replacement for a standard USB 2.0 PHY in applications where USB is being used on a single printed circuit board. It is becoming increasingly attractive to use USB as a high speed chip-to-chip interconnect within a product where low cost and low power are required. However, because USB was designed to enable hot-plugging of peripherals over cables up to 5 meters in length, certain power and implementation features are not required for chip-to-chip interconnect solutions. To better meet the needs of a USB chip-to-chip interconnect, HSIC accomplishes this by removing the analog transceivers, thus reducing complexity, cost and manufacturing risk.


Features
High-Speed 480Mbps data rate only

Source-synchronous seriel interface

No power consumed unless a transfer is in progress.

Maximum trace length of 10cm

No hot Plug-n-Play support, no hot removal/attach

Signals driven at 1.2V standard LVCMOS levels

Designed for low-power applications

No high-speed chirp protocol, the HSIC interface is always operated at high-speed

HSIC host or peripheral can be powered in any order
Benefits
Silicon proven

Performance and Power efficient interface

Leverages USB infrastructure
Deliverables
GDS-II

CDL netlist for LVS

DRC and Antenna reports

LIB files

Userguide and Integration Guides

LEF

Scan-inserted netlist for DFT

Verification Environment with behavioral models
Block Diagram of the HSIC USB 2.0 PHY IP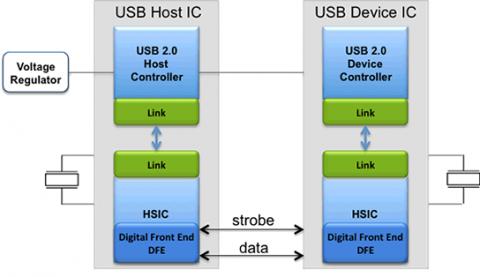 ---
View USB HSIC PHY - High Speed Inter-Chip IP Core full description to...
see the entire USB HSIC PHY - High Speed Inter-Chip IP Core datasheet
get in contact with USB HSIC PHY - High Speed Inter-Chip IP Core Supplier