You are here:
Video Tracking IP Core
The T-COR-10 FPGA IP core for tracking objects in video stream images is designed for use in vision systems intended for various applications (security systems, specialized systems, etc.) that are based on FPGA. The core is a completed module suitable for use in any FPGA projects. The core represents a simple data exchange interface that ensures easy integration into various systems. The core makes use of a modified high-performance correlation tracking algorithm which allows tracking of all types of objects. The implemented algorithms provide stable tracking of small-size and low-contrast objects against a complex background. The algorithms are perfectly suitable for tracking ground, surface and aerial objects of any type. Capture of objects for tracking is carried out by a command. In case of loss of the object (tracking break), the algorithms predict the path followed by the object up to automatic re-capture. Thus, the T-COR-10 IP core is a versatile module that allows its use in any FPGA projects for vision systems.
---
View Video Tracking IP Core full description to...
see the entire Video Tracking IP Core datasheet
get in contact with Video Tracking IP Core Supplier
Block Diagram of the Video Tracking IP Core IP Core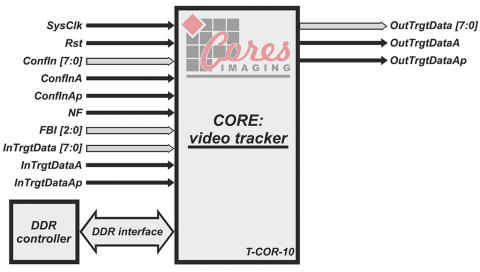 Video Demo of the Video Tracking IP Core IP Core