You are here:
XTS-AES IEEE P1619 Core Families
XTS2 and XTS3 (formerly known as XEX2 and XEX3) implement the NIST standard AES cipher in the XEX/XTS mode for encryption and decryption. The XTS3 family of cores covers a wide range of area / throughput combinations using both 256 and 128-bit keys, allowing the designer to choose the smallest core that satisfies the desired clock/throughput requirements. XTS2 is similar to XTS3, but supports only 128-bit keys. Each core contains the base AES core AES1 and is available for immediate licensing.

The design is fully synchronous and available in both source and netlist form.

Features
Key Features Small size: XTS2-12.8 starts at less than 30,000 ASIC gates and delivers throughput of 7 Gbps. XTS3-18.2 starts at 44,000 ASIC gates at throughput of 18.2 bits per clock. The fastest cores in the families, XTS2-128 and XTS3-128, deliver 128 bits of throughput per clock (for example, at 500 MHz clock the maximum throughput is 64 Gbps).

Completely self-contained: does not require external memory

Supports both encryption and decryption

Includes key expansion and CTS support

Supports XEX-based Tweaked CodeBook mode (TCB) with CipherText Stealing (CTS) (XTS) mode encryption and decryption

128+128 and 256+256 bit AES keys supported.

Easily parallelizable for even higher data rates

Flow-through design

Test bench provided
Benefits
Designer can choose a core from the family to precisely target the required throughput.
Deliverables
HDL Source Licenses

Synthesizable Verilog RTL source code

Verilog testbench (self-checking)

Vectors for testbench

Expected results

User Documentation

Netlist Licenses

Post-synthesis EDIF

Testbench (self-checking)

Vectors for testbenches

Expected results
Applications
Hard drive encryption compliant with the IEEE P1619 and NIST SP800-38E draft
Block Diagram of the XTS-AES IEEE P1619 Core Families IP Core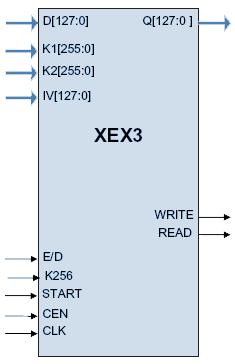 ---
View XTS-AES IEEE P1619 Core Families full description to...
see the entire XTS-AES IEEE P1619 Core Families datasheet
get in contact with XTS-AES IEEE P1619 Core Families Supplier