You are here:
Zynq SATA Storage Extension - Production Reference Design
MLE's Zynq SATA Storage Extension (Zynq SSE) is a fully integrated and pre-validated system stack comprising 3rd-party SATA Host Controller and DMA IP cores from ASICS World Services, a storage micro-architecture from MLE, Xilinx PetaLinux, and an Open Source SATA Host Controller Linux kernel driver, also from MLE. Zynq SSE utilizes the Xilinx GTP/GTX Multi-Gigabit Transceivers to integrate physical SATA connectivity.

Zynq SSE is delivered as a complete reference design for the Xilinx Zynq-7000 All Programmable SoC (Zynq), and effectively extends Zynq with one single SATA host port for HDD and SSD storage connectivity.

A novel license fee structure reflects the needs of Zynq's Embedded Linux users for simple and affordable SATA.
Features
Provides one single SATA I (1.5 Gbps), SATA II (3 Gbps) and SATA III (6 Gbps) host port.

Access one single SATA HDD or SATA SSD via a standard Linux block device interface and Linux filesystems.

Fully integrated and tested SATA I/II/III Host Controller IP Core.

Fully integrated and tested DMA Controller IP Core.

SATA driver for Linux/Petalinux available in binary and open source.

SATA-IO compliance in works.

Less than 3% resource utilization on a Zynq 7045 leaves more than 95% of Zynq resources for you.
Benefits
Reduce PCB footprint and BoM costs with this integrated FPGA solution.

Reduce development cost, time and risks with this integrated, pre-validated system stack.

Enables tight storage algorithm integration and test for de-duplification, scrubbing, compression, etc.
Deliverables
Complete, downloadable system stack and Xilinx Vivado design project for evaluation purposes on either Xilinx ZC706 Design Kit plus XM104 Adapter Card, or the Avnet Zynq Mini-ITX Boards 7Z045 and 7Z100.
Applications
Fast and reliable storage solutions for Embedded Systems.

Supervisory, Control and Data Acquisition (SCADA) systems.

Smart Storage, Software-defined Storage, Network-Attached Storage (NAS).

Storage and Retrieval for Test & Measurement.

Video Imaging Record and Replay.
Block Diagram of the Zynq SATA Storage Extension - Production Reference Design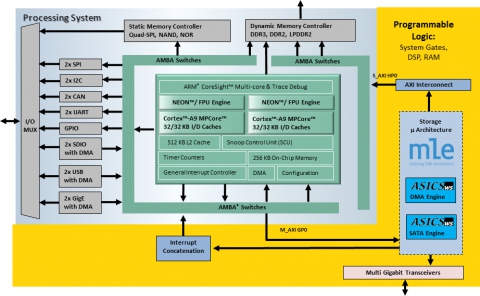 ---
View Zynq SATA Storage Extension - Production Reference Design full description to...
see the entire Zynq SATA Storage Extension - Production Reference Design datasheet
get in contact with Zynq SATA Storage Extension - Production Reference Design Supplier