You are here:
MPEG-1/2 - Layer I/II Audio Encoder
The MPEG-1/2 – Layer I/II Audio Encoder (CWda74) is a software IP for encoding audio streams. It is designed to run on our CWdaXYZ audio engine platform, which supports encoding and decoding of multiple streams in multiple formats on a single device.
The user can load the CWda74 program through a parallel AMBA APB or serial SPI interface into one or more of the processors in the system. The program can be configured, run and monitored by means of a configuration, control, and status register file, accessed by the same control interface.
The audio input and output interfaces include a native parallel interface. Other interfaces, such as, I2S/TDM and SPDIF/AES3 are also available.
Features
MPEG-1/2 - Layer I/II encoders are compliant with ISO/IEC 11172-3 and 13818-3 audio standards, using Fraunhofer IIS high quality software

Channel modes: mono, dual mono, stereo, and joint stereo

Supported sample rates: 16, 22.05, 24, 32, 44.1 and 48 kHz

16 to 24-bit input audio resolution

Requires 300 kB of internal or external memory

Configurable latency (minimum: 1 frame) useful to synchronize with other sources (e.g. video)

Software interface protocol for commands, configuration and monitoring

Parameter change while muting or repeating one frame

Real time operation @75 MHz
Benefits
Compact hardware implementation –fits economically in FPGAs

Low operation frequency

Low power consumption

Small external memory footprint
Deliverables
Program binary

Software manual

Netlist or RTL

Implementation constraints

Hardware datasheet
Block Diagram of the MPEG-1/2 - Layer I/II Audio Encoder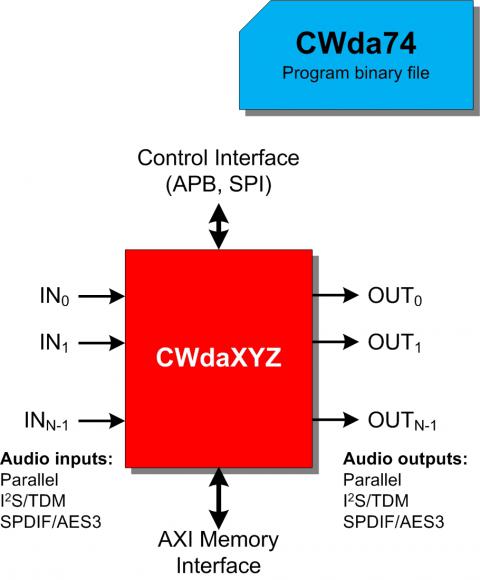 ---
View MPEG-1/2 - Layer I/II Audio Encoder full description to...
see the entire MPEG-1/2 - Layer I/II Audio Encoder datasheet
get in contact with MPEG-1/2 - Layer I/II Audio Encoder Supplier