You are here:
120dB PDM-to-PCM Digital Microphone Interface
The AR36T05 is a soft macro low-power high-performance digital microphone interface modulator IP. The IP converts stereo/mono 1-bit pulse-density modulated (PDM) bit stream data from external digital microphones into 16-24bit pulse-code modulated (PCM) data for base-band processing. It is expandable to multi-channel system for various voice and audio applications.

The IP is portable to any logic process node for silicon realization. It is now silicon-proven in TSMC 16nm and 28nm logic processes.

Features
SNR 122dB; DR 121dB

PDM (pulse-density modulated) Input

PCM (pulse-code modulated) output

Support PDM_CLK rates of 0.512MHz~8.64MHz

Support left /right mono mode, stereo mode

Sampling Rate: 8K-96KHz, upgrade to higher Fs

PGA Gain: Tunable with a wide range, 0.75dB/Step

Soft gain tuning

Soft mute

Digital audio interface (master & slave)

DAI data format: I2S, Left-justified, PCM

Control Interface: Register / I2C, APB/MCU bus
Benefits
Easy Integration

Quick Time-to-Market

Reduced R&D Cost

Enhance 1st Tape Out Success

Differentiated SoC Solution

Early Market Penetration
Deliverables
Full Datasheet

Test Plan

Synthesized Gate Netlist or RTL

Timing Constraint (.sdc)

Test Benches and Test Vectors

Integration Support

Silicon Validation & AE support
Applications
Machine Learning / Voice Recognition System

IoT System and Node

Smart Wearable Devices

Smart Voice/Audio Home Appliance

Portable Media

VR/AR/MR System

Surveillance System
Block Diagram of the 120dB PDM-to-PCM Digital Microphone Interface IP Core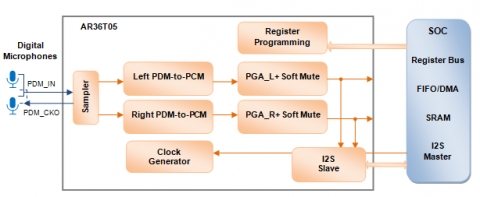 ---
View 120dB PDM-to-PCM Digital Microphone Interface full description to...
see the entire 120dB PDM-to-PCM Digital Microphone Interface datasheet
get in contact with 120dB PDM-to-PCM Digital Microphone Interface Supplier