You are here:
Camera Link IP Core
The Camera Link IP Core is designed for building vision systems incorporating Camera Link™ communication interfaces including Base, Medium & Full Channel Link configurations. The core supports camera control signals, serial communication, and video data. It is designed for building both Camera and Frame Grabber devices.

The Camera Link standard is based on Channel Link® technology developed by National Semiconductor. Channel Link uses LVDS technology for transmitting digital data using a parallel-to-serial transmitter and a serial-to parallel-receiver to transmit data at rates up to 2.38 Gbps. The base Channel Link standard uses 28 bits to represent up to 24 bits of pixel data and 3 bits for Video Sync signals. These consist of Data Valid, Frame Valid, and Line Valid bits. The data is serialized 7:1, and the four data streams and a dedicated clock are driven over five LVDS pairs. The Receiver accepts the four LVDS data streams and one LVDS clock, and then deserializes the data into 28 bits of parallel data and a clock.

The core is designed for Altera® field programmable logic devices and is supplied with an easy-to-use Quartus® SOPC Builder Ready component.
Features
Supports 8-bit, 10-tap Base, Medium & Full Camera Link interfaces

Supports 64-bit and 80-bit extended Full configurations

Camera and Frame Grabber configurations

7:1 Camera Link Serializer/Deserializer (SerDes)

Transmission clock rates to 85 MHz. in Cyclone, Stratix & Arria devices

Auto Link alignment of Medium and Full Camera Link sources

Power Over Camera Link (PoCL) SafePower

Bi-directional serial Camera Link communication

Configuration GUI streamlines design process

Supports: Cyclone II, III, IV, Arria II GX, & Stratix III, IV devices
Deliverables
The IP is supplied as an FTP download. It includes:

Java Configuration GUI

TimeQuest timing analyzer Synopsis Design Constraint (SDC) file

VHDL ModelSim library

User documentation

Quartus Reference Design supporting a Camera Link Base, Medium & Full configurations

Includes perpetual IP core license with 1 year of updates

A 30-day Altera OpenCore Plus evaluation license available. (Use the request link above.)
Applications
The Camera Link Transceiver IP Core is specifically targeted at industrial video applications including; industrial vision systems, high-speed video interconnects, Camera Link frame grabber devices, interface conversion, and video processing equipment.
Block Diagram of the Camera Link IP Core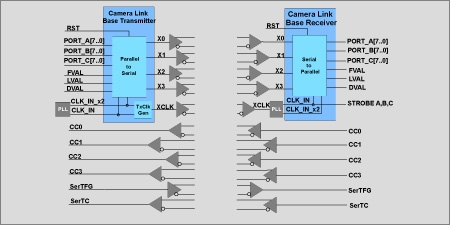 ---
View Camera Link Transceiver full description to...
see the entire Camera Link Transceiver datasheet
get in contact with Camera Link Transceiver Supplier