You are here:
DVB-RCS2 16 State High Speed Turbo Decoder
This is a high speed DVB-RCS2 16 state duobinary turbo decoder with four parallel MAP decoders.
Features
16 state DVB-RCS2 compatible turbo decoder

Rate 1/2 or 1/3

40 to 4800 bit interleaver

Up to 192 MHz internal clock

Up to 136 Mbit/s with 5 decoder iterations

6-bit signed magnitude input data

4 parallel MAP decoders

Optional log-MAP or max-log-MAP constituent decoder algorithms

Up to 32 iterations in 1/2 iteration steps

Optional power efficient early stopping

Optional extrinsic information scaling and limiting

Estimated channel error output

Free simulation software

Available as EDIF core and VHDL simulation core for Xilinx Virtex-II, Spartan-3, Virtex-4, Virtex-5, Virtex-6, Spartan 6 and 7-Series FPGAs under SignOnce IP License. Actel, Altera and Lattice FPGA cores available on request.

Available as VHDL core for ASICs
Deliverables
All Licenses

EDIF Core

VHDL Simulation Core

Test vector generation software

VHDL ASIC License
Block Diagram of the DVB-RCS2 16 State High Speed Turbo Decoder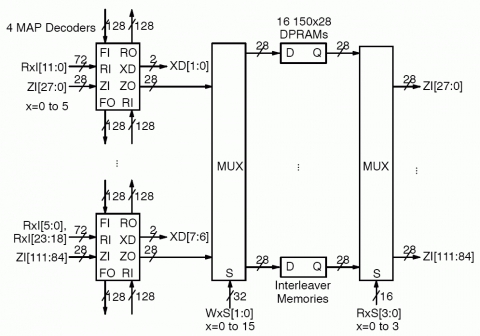 ---
View DVB-RCS2 16 State High Speed Turbo Decoder full description to...
see the entire DVB-RCS2 16 State High Speed Turbo Decoder datasheet
get in contact with DVB-RCS2 16 State High Speed Turbo Decoder Supplier