You are here:
FPD LVDS Display Interface - 1 & 2 Port LVDS Panels
The FPD LVDS Display Interface IP Core interfaces parallel 18-bit/24-bit RGB Pixel Data with display timing VSYNC, HSYNC, Data Enable, and Pixel Clock to a FPD LVDS compliant display panel via 3 or 4 LVDS Differential Data Pairs and 1 LVDS Differential Clock Pair.
Features
Supports 3 and 4 data and 1 clock LVDS differential pairs

18 / 24 bits-per-pixel (typically RGB or YCbCr)

Example Range of Video Formats:

HD 1280x720p

Full HD 1920x1080p

Cinema Full HD 2560x1080p

UHD 4K x 2K 3840x2160p

Dual Port LVDS Panel Support Provided

Supports standardized FPD-Link Panels

Compatible with commercial LVDS ICs:

SN65LVDS*, SN75LVDS*,DS90CR*, DS90UR*, THC63LVD

Supports 600 Mbps per data pair

Differential Driver per data pair supplied by user from foundry technology library

Fully-synchronous, synthesizable Verilog RTL core, with rising-edge clocking, no gated clocks, and no internal tri-states, for easy integration into FPGA or ASIC design flows.

With DB9000 LCD Controller IP forms full Display System Solution for LVDS Interface panels
Deliverables
Verilog RTL Source or technology-specific netlist.

Comprehensive testbench suite with expected results.

Synthesis scripts.

Installation & Implementation Guide.

Technical Reference Manual.
Block Diagram of the FPD LVDS Display Interface - 1 & 2 Port LVDS Panels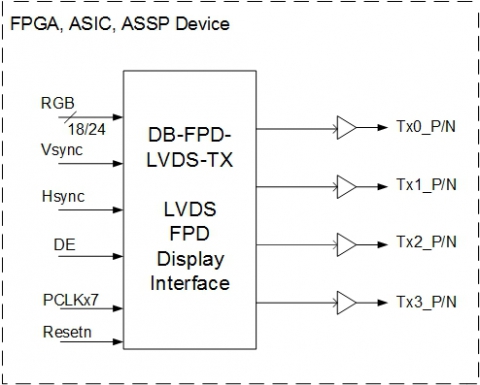 ---
View FPD LVDS Display Interface - 1 & 2 Port LVDS Panels full description to...
see the entire FPD LVDS Display Interface - 1 & 2 Port LVDS Panels datasheet
get in contact with FPD LVDS Display Interface - 1 & 2 Port LVDS Panels Supplier