You are here:
Hardware Offload Engine for 1394b AS5643
The New Wave Design and Verification (New Wave DV) 1394b AS5643 IP core provides a complete hardware IP solution for the 1394b AS5643 protocol.
The core provides hardware based AS5643 message label filtering, hardware mapping of AS5643 message label to host memory, and complete offload of 1394 AS5643 message handling including: Asynchronous Transmit, Isochronous Receive, STOF receive/transmit handling, STOF regulated transmit functions, Self ID operations, vertical parity, and CRC generation/checking.
The host interface to the core can be AXI or PCIe. The core is built for dropping into an FPGA and providing the complete design from processor interface to 1394b AS5643 network interface.
Features
AS5643 compliant interface with hardware based STOF offload

Hardware DMA engines with message label mapped buffers

STOF transmitter and receiver hardware functions

Supports S100/S200/S400 data rates

Configurable number of nodes and ports in a single FPGA

AXI-based host interface for embedded or PCIe based processors
Benefits
Increased performance with hardware-based AS5643 offload

Hardware-based message label filtering and host DMA setup

Additional diagnostics and programmable operation features

Leverage proven technology for standard interface implementation
Applications
Avionics vehicle and mission systems

Industrial/Machine vision systems
Block Diagram of the Hardware Offload Engine for 1394b AS5643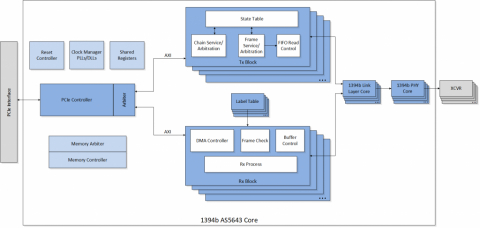 ---
View Hardware Offload Engine for 1394b AS5643 full description to...
see the entire Hardware Offload Engine for 1394b AS5643 datasheet
get in contact with Hardware Offload Engine for 1394b AS5643 Supplier