You are here:
Headphone amplifier
The Headphone amplifier is available in a 140nm CMOS process. The Headphone amplifier can drive loads down to 16Ω and with a supply voltage ranging from 1.5 Volt to 5 Volt. With the internal feedback resistors the gain of the amplifier is +2 or -1 depending on which input is used.
Features
Fixed gain of +2 or -1

Supply voltage 1.5 to 5V

Load impedance ≧ 16Ω

SNR@5mW 101dB

THD@5mW,1kHz 0.03%

0.125mm2 in 0.14μm CMOS
Benefits
The headphone amplifier (HPA) is a class AB amplifier in a standard 180nm CMOS process.

The input requires a DC bias network to set the output voltage at half the supply voltage Vs/2. This biasing network must be decoupled to ground for an optimal PSRR.

Applications with DC coupling ('true ground' application) are possible when a positive and a negative supply voltage are used (+/-0.75V to +/-2.5V). It must be noticed that the substrate of the chip is connected to the negative supply pin. Combining the HPA with other circuits that are designed for a single supply voltage on the same chip is not possible when those circuits make use of the same 'signal' ground. Such a combination is possible when a P-well is added for the NMOS transistors as a process option.
Deliverables
The product can be delivered as a single IP component for customer integration or Axiom IC engineers can integrate the product as part of a SoC engagement. A GDSII layout (version F1) is available for these purposes.
Applications
Cellular Phones / Music Phones

Smart Phones

Portable Media / MP3 Players

Portable CD / DVD Players
Block Diagram of the Headphone amplifier IP Core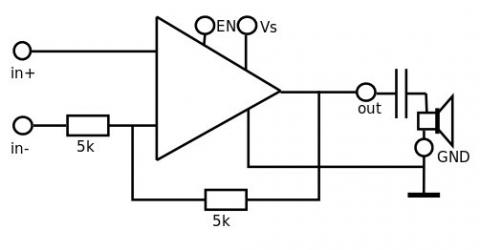 ---
View Headphone amplifier full description to...
see the entire Headphone amplifier datasheet
get in contact with Headphone amplifier Supplier