You are here:
IEEE 1149.7 Compact TAP
The IEEE 1149.7 Compact TAP from Silvaco provides an IEEE 1149.7-compliant Test Access Port (TAP), enabling you to take advantage of IEEE 1149.7 features such as:
- 2-pin access to your on-chip IEEE 1149.1 test infrastructure
- Reduced scan times through shorter scan paths
- Efficient use of the 2-pin interface for both test and debug

The IEEE 1149.7 Compact TAP supports all mandatory and optional features of IEEE Std. 1149.7-2009 and is the cornerstone of the emerging Compact JTAG ecosystem—implemented in chips from Texas Instruments and other major semiconductor manufacturers and the reference design used by leading development system providers.
Features
Supports IEEE 1149.7 classes 0–5 (selected through hardware configuration parameter)

Partitioned along IEEE 1149.7-specified functional boundaries (so that only the required hardware is included):

Extended Processing Unit (EPU) for class 0–3 operation

Advanced Processing Unit (APU) for class 4–5 operation

Further partitioning within EPU and APU for class-specific and optional features

Separate blocks for clock and reset signal conditioning

Supports all mandatory and optional scan formats: JScan0–3, SScan0–3, OScan0–7, and MScan

Supports all mandatory and optional cJTAG commands

Firewall provides robust hot-connection by disabling TCK until firewall is disabled by the Debug Test System (DTS)
Deliverables
Synthesizable Verilog source code

Integration testbench and tests

Documentation

Scripts for simulation and synthesis with support for common EDA tools
Block Diagram of the IEEE 1149.7 Compact TAP IP Core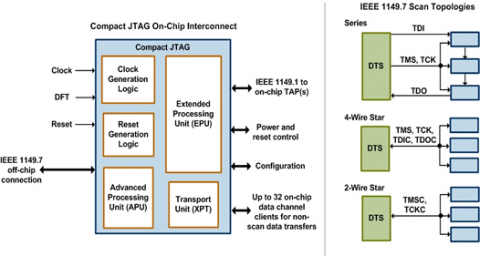 ---
View IEEE 1149.7 Compact TAP full description to...
see the entire IEEE 1149.7 Compact TAP datasheet
get in contact with IEEE 1149.7 Compact TAP Supplier